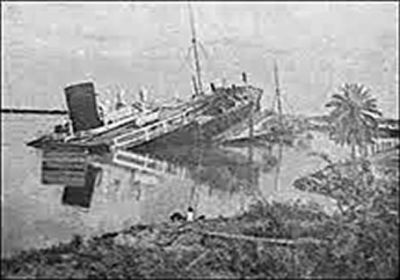 Operation Jackpot In the liberation war of Bangladesh in 1971, the Bangali naval commandos within a very short period of time were able to aprise the world of the course of warfare by undertaking various operations. The first operation launched by the naval commandos on 15 August 1971 is known as 'Operation Jackpot'. On this night the naval commandos launched attack simultaneously on the port of Mongla, Chittagong, Chandpur, Narayanganj, and drowned twenty-six gunboats of the Pak army carrying commodities, arms and ammunitions.
During the war of liberation, the naval commandos were under the jurisdiction of sector 10. This sector consisted mainly of coastal area, the whole of waterways of Bangladesh including river and sea ports. The purpose of the naval commando attack was to disrupt the communication of West Pakistan with Bangladesh on waterways. There was no particular sector commander in charge of sector 10. During operations, the control of the commandos was vested in the hands of the sector commander of the area scheduled for operation.  
In August 1971, 148 naval commandos were split into four groups and sent to the interior of Bangladesh.
Submariner Abdul Wahed Chowdhury (Bir Uttam) was the leader of a group of sixty commandos for operation in Chittagong Port. But the naval operations of the commandos were launched in Chittagong under the leadership of sector commander Major Rafiqul Islam. Operation Jackpot began on 15 August at midnight. The Commandos installed mine on the ships and then dispersed. Some of the mines exploded before the stipulated time. The Chittagong port trembled at 1-40 am. Several burges and ships anchored in Chittagong port including two Pakistani ships MV Harmuj and MV Al-Abbas were destroyed. MV Harmuj and MV Al-Abbas were loaded with 9910 and 10,418 tons of war materials respectively. Forty-eight naval commandos under submariner Ahsanullah (Bir Pratik) made operation in the Mongla port. Six ships anchored in the port were destroyed by the explosion of mines. In the Chandpur river port operation twenty naval commandos came out successful under the leadership of Badiul Alam (Bir Uttam). They simultaneously destroyed some ships anchored at Chandpur port with mine on 15 August. A group of twenty naval commandos under the leadership of Submariner Abdur Rahman (Bir Bikram) and Shahjahan Siddique (Bir Bikram) conducted successful operation in Narayanganj and Daudkandi river ports.
The successful operations of the naval commandos disclosed the futile propaganda made by the Pakistan government to the outside world that normalcy was prevailing in occupied Bangladesh. The news of the success of naval operations undertaken by the freedom fighters were published in the world media. After these successful operations, no foreign ship agreed to anchor in the ports of the then East Pakistan. The liberation war got a wide publicity in the outside world because of the Operation Jackpot. [Abu Md. Delwar Hossain]