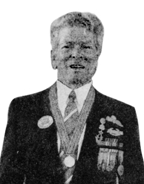 Ouderland, William AS (1917-2001) Dutch-Australian William AS Ouderland was the only foreigner who was honoured with the state insignia of 'Bir Pratik' by the government of Bangladesh for his active participation in and heroic contribution to the war of liberation in 1971.
An Australian national Ouderland was born at Amsterdam in Netherland on 6 December 1917. At the age of seventeen he took a job in the Bata Shoe Company as Shoe-shiner (1934). After two years he left the job, joined National Service (1936) and had been a Sergeant in the Royal Signal Corps till 1940 AD. He left the service in 1940, and participated in the Second World War (1939-1945) as a guerilla commando of the Dutch army. Ouderland first came to Dhaka in late 1970 with an assignment as the Production Manager of Bata Shoe Company. Within a few months he was promoted to the post of Company Manager. With the beginning of the War of Liberation, the company-manager Ouderland discovered in him the ex-soldier Ouderland facing a new war.
At the initial stage, he engaged himself in communicating secret intelligence on the plans and actions of the occupation army to the freedom fighters. As a foreigner he had the access to Pak-army and thereby an opportunity to move in the army headquarters often attending meetings of the army officers in the cantonment. Ouderland helped the freedom fighters in every possible way by supplying provisions and financial support. With his experience in the Second World War as a guerilla commando and himself being an active member of a guerilla branch of the freedom fighters of Sector 2, he imparted regular training to the freedom fighters in guerilla warfare at different secret camps in Tongi including the Bata Shoe Factory premises.
Simultaneously, he gave a tremendous service at the initial stage of the Liberation War by collecting photographs on the incidence of atrocities and genocide by the occupation army, and sending them to the world news media thereby creating public opinion in favour of the Liberation War. On this point he wrote, 'I recollected and resumed in myself the experiences of my youth in Europe, and I felt that I should get the world informed of what was happening in Bangladesh'.
William AS Ouderland continued his service in the Bata Shoe Company in Dhaka with his elevated position as Managing Director till 1978 when he retired, and returned back to Australia to settle there for the rest of his life. He died on 18 May 2001 in a hospital at Perth in West Australia leaving behind him his wife Maria and his only daughter. In his last days he was often found telling his wife and daughter, 'Bangladesh mon amor (Bangladesh is our love). Maintain this flow of emotion for the generation to come'. [Muazzam Hussain Khan]