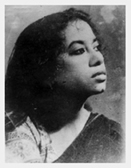 Parvin, Selina (1931-1971) journalist, martyr intellectual. She was born on 31 March 1931 at village Chhota Kalyan Nagar in Ramganj upazila of Noakhali district. Her father was Moulvi Abidur Rahman and mother Mosammat Sajeda Khatoon. Her actual name was Manwara Begum. She took the name as Selina Parvin by an affidavit in 1954.
Selina Parvin had her primary education at Sarala Valika Vidyalaya in Feni. Due to various adversities she could not continue her studies. She returned to her native village Chhota Kalyan Nagar in 1942. She appeared at the matriculation examination in 1949 as a private candidate, but could not come out successful.
Selina Parvin happened to come in close contact with Uma Davi, a school teacher in Kolkata, in 1945 who was then at Mohanganj in Kishoreganj district. Uma Devi inspired her to literary pursuits. Selina Parvin by her own accord acquired proficiency in Bangla language and literature. Her writings were regularly published in the daily papers like the Purbadesh, Azad, Pakistan, Sangbad, Ittefaq and in the weekly Begum.
Selina Parvin took training in nursing at the Mitford Hospital in 1957. She worked for some time as matron in Rokeya Hall in 1959 and joined the Azimpur Baby Home as a teacher in 1960. She worked for some time at Salimullah Orphanage in 1965 and then joined as secretary to the editor of weekly Begum in 1966. In 1967, Selina Parvin joined the weekly Lalana as a journalist. From this time onward she excelled herself in writing features and articles and earned reputation as a journalist.
The weekly Shilalipi was launched in 1969 with Selina parvin as editor. The cover page of the paper with the articles and features in favour of the War of Liberation in 1971 incurred the displeasure of the Rajakars. Moreover, Selina Parvin used to help the freedom fighters operating in Dhaka.
On 13 December 1971, the cadres of AL-BADR abducted Selina Parvin from her residence at Siddheswari. Selina Parvin was one of those intellectuals who were killed at the scaffold of Rayerbazar. Her dead body having eyes covered with black veil was discovered from the scaffold. She was laid to rest in Azimpur graveyard on 18 December.
The Postal Department of the Government of Bangladesh issued commemorative postal stamp in the name of Selina Parvin on the Martyred Intellectual Day on 14 December 1991. [Selina Hossain]