Patgram Upazila (lalmonirhat district) area 261.51 sq km, located in between 26°17' and 26°33' north latitudes and in between 89°03' and 89°21' east longitudes. It is bounded by west bengal state of India on the north, east and west, hatibandha upazila and West Bengal state of India on the south. This upazila has 27 enclaves of which Dahagram and Angarpota are the most noted enclaves of the country. The Tin Bigha Corridor connects these two enclaves with the main land.
Population Total 193185; male 98564, female 946221; Muslim 178043, Hindu 15080 and' others 62.
Water bodies Main rivers: tista, Singimari.
Administration Patgram Thana was formed in 1801 and it was turned into an upazila on 18 March 1984.
Upazila
Municipality
Union
Mouza
Village
Population
Density (per sq km)
Literacy rate (%)
Urban
Rural
Urban
Rural

1

7

74

69

25272

167913

739

55.7

43.1
Municipality

Area (sq km)

Ward

Mahalla

Population

Density (per sq km)

Literacy rate (%)

13.42

9

23

25272

1883

55.6
Union
Name of union and GO code
Area (acre)
Population
Literacy rate (%)
Male
Female

Kuchlibari 54

6031

9297

8918

40.62

Jagatber 27

9791

12257

11995

49.80

Jongra 40

8275

11580

11450

39.34

Dahagram 19

4617

4246

4051

34.95

Patgram 67

11872

12380

11688

45.52

Baura 13

9520

13674

13006

47.08

Sreerampur 81

14517

22152

21219

40.05
Source Bangladesh Population Census 2001, Bangladesh Bureau of Statistics.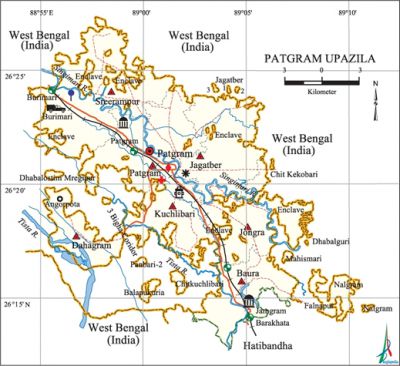 Archaeological heritage and relics Dhabalsati Mosque, Jamgram Jami Mosque, Pateshwari Temple at Patgram, Mota' Sannyasi Statue.
History of the War of Liberation Burimari of Sreerampur union under Patgram upazila was under Sector 6 during the war of liberation and sector commandar was Wing Commandar MK Bashar.
Marks of the War of Liberation Martyr Afzal Auditorium.
Religious institutions Mosque 352, temple 25, church 2. Noted religious institutions: Jamgram Jami Mosque, Rasul Pir Tomb, Pateshwari Temple.
Literacy rate and educational institutions Average literacy 44.7%; male 50.1%, female 39.1%. Educational institutions: college 3, secondary school 27, primary school 88, madrasa 42. Noted educational institutions: Jasimuddin Government Kazi Abdul Gani Degree College (1968), Patgram Mohila Degree College (1997), Patgram Model Degree College (1998), Patgram Taraknath High School (1945), Baura Public High School (1945), Burimari Hasar Uddin High School (1955),' Jongra National High School (1967), Patgram Huzur Uddin Government Girls' High School (1968), Mirzacourt HM High School (1972), Patgram NP Senior Madrasa (1962).
Cultural organisations Library 37, club 126, cinema hall 2, stadium 1, playground 6.
Tourist spots Tin Bigha Corridor and Burimari Land Port.
Main sources of income Agriculture 74.22%, non-agricultural labourer 4.45%, industry 0.29%, commerce 9.12%, transport and communication 2.34%, service 2.62%, construction 0.55%, religious service 0.26%, rent and remittance 0.15% and others 6%.
Main crops Paddy, tobacco, wheat, potato, jute, ground nut.
Extinct or nearly extinct crops Kaun, sweet potato, mustard.
Main fruits Mango, jackfruit, black berry, betel nut.
Extinct or nearly extinct traditional transport Palanquin, bullock cart.
Noted manufactories Flour mill, ice factory, toffee factory, welding factory.
Cottage industries Goldsmith, blacksmith, wood work.
Hats, bazars and fairs Hats and bazars are 16, fairs 8, most noted of which are Baura Hat, Patgram Hat, Beltali Hat, Rasulganj Hat, Munsir Hat, Pateshwari Mela, Barunir Mela and Durgapujar Mela.
Main exports Paddy, jute, tobacco, potato, betel nut.
Access to electricity All the wards and unions of the upazila are under rural electrification net-work. However 5.13% of the dwelling households have access to electricity.
Natural resources High quality sand and stone-chip have been discovered in this upazila.
Sources of drinking water Tube-well 86.88%, tap 0.47%, pond 0.37% and others 12.28%.
Sanitation 58.06% (rural 61.41% and urban 33.88%) of dwelling households of the upazila use sanitary latrines and 18.23% (rural 14.03% and urban 48.55%) of dwelling households use non-sanitary latrines; 23.71% of households do not have latrine facilities.
Health centres Upazila health complex 1, union health centre 3, clinic 1.
NGO activities Operationally important NGOs are brac, proshika, [[Rangpur Dinajpur Rural Service|rangpur dinajpur rural service], Swanirvar Bangla, Jagarani. [Benu Begum Bijli]
References Bangladesh Population Census 2001, Bangladesh Bureau of Statistics; Cultural survey report of Patgram Upazila 2007.