Periwinkle (nayantara) a medicinal plant, Catharanthus roseus having anti-cancer properties. Perwinkle is a herbaceous subshrub, 40 to 80 cm high becoming woody at the base. The leaves are oppositely arranged, oblong with a petiolate acute base. It is probably indigenous to Madagascar, but is now widely distributed throughout the warm regions of the world, including Bangladesh, and is cultivated as an ornamental plant. In indigenous medicine this plant is used in the treatment of diabetes and also as a hypotensive, sedative, and tranquilising agent.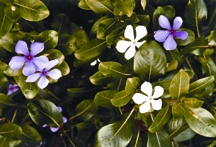 Although modern investigators have been unable to confirm these properties, the traditional uses of this plant, particularly its use as an oral hypoglycaemic agent, led the Eli Lilly and Company to undertake intensive phytochemical investigation of the plant which resulted in the isolation of two important indole alkaloids, vinblastine and vincristine, which are of significant value in cancer therapy. They are now available commercially. [Abdul Ghani]
See also medicinal plant.