Puthia an upazila in Rajshahi district. Puthia zamindari created by the Mughals in the early 17th century is one of the oldest estates of Bengal.
There is a tradition that Nilambar received the title of Raja from Emperor jahangir (1605-1627 AD). A partition of the estate took place in 1744 when the eldest son received a 5.5 anna share while the three others received 3.5 anna each. The Puthia Raj estate maintained its existence till the abolition of the zamindari system under the East Pakistan Estate Acquisition Act of 1950.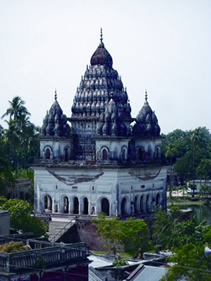 The two-storied Puthia Rajbari, which is the most notable structure in the area faces a four-storeyed large pyramidal dol mancha on the north, across an open ground and presents an imposing 60.96m frontage. It has two symmetrical projected wings at the east and west ends while its central part, about 15.24m wide, accommodates a grand portal.
A 3.05m wide verandah runs along the front and provides access to the large halls behind. The balcony roof is supported on three graceful semi-Corinthian fluted columns, rising up to the upper floor.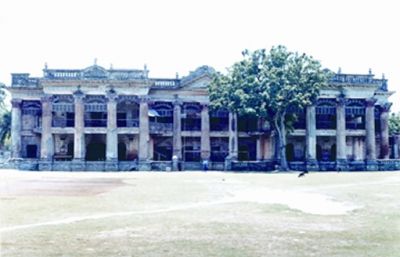 The central bay is relieved with a triangular pediment and the parapet decorated with delicate floral plaster relief. The broad verandahs of the terminal bays on the east and the west are carried on four lofty fluted Corinthian columns, similarly shooting up to the upper floor ceiling. This grand palace was constructed by Rani hemantakumari devi in 1895 AD in honour of her mother-in-law Maharani saratsundari devi. At present Lashkarpur Degree College uses this building.
The extensive area of the estate, enclosed within a moat, has a number of elegant temples embellished with terracotta sculpture, eg the Pancharatna Govinda Temple, a beautiful little do-chala shrine behind the palace, the hut-shaped Jagaddhatri Temple on the west and the large Shiva Temple at the entrance of the estate. The Shiva Temple, a 19.81m square building, was erected by Rani Bhuvan Mohini Devi in 1823 AD on a high plinth and plastered all over. It is decorated with numerous miniature ratnas on the main tower and on the four smaller towers on the roof of the ground floor. The derelict Puthia palace is now in a state of progressive disintegration. [Mostafizur Rahman]