Radcliffe, Cyril John (1899-1977) lawyer, head of the Radcliffe Commission which is famous for partitioning the territory of India. He was the 1st Viscount of Radcliffe. He was born on 30 March 1899 in Llanychan, Denbighshire, England. He was forced to join World War I as a soldier of the British Army at his early stage. He was removed from the front for his limited eyesight. Radcliffe then joined the labour corps department.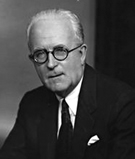 After the war Cyril Radcliffe attended Oxford University. He was elected to a fellowship at All Souls College. He studied law and legal aspects there and obtained his degree. In 1924 Cyril Radcliffe joined to the bar and established himself as a reputed lawyer. He continued practice up to the World War II. When the war broke out Radcliffe joined the Ministry of Information of the British Government. In 1941 he became the Director General of the Ministry. He again back to his profession of legal practice after the war. His wisdom and knowledge of legal side awarded him the Chairmanship of the two boundary committees in India under the Indian Independence Act, 1947.
The commission was Bengal Boundary Commission and the Boundary Commission of Punjab. On 3 June 1947 he was appointed Chairman of the Commission. He arrived in India on 8 July 1947. He submitted the report of partitioning India and the map of the two new countries India and Pakistan and also indicated its international boundary. His proposition known as radcliffe award in Indian history. After his report British India was divided and 14 and 15 August 1947 Pakistan and India were declared as Independent States.
In 1949 Cyril Radcliffe was made law lord and life peer as Baron Radcliffe of Werneth in the county of Lancashire. Beside his legal practice Cyril Radcliffe also headed some public enquiries. In 1948 he assumed chairman of the enquiry committee of the British Film Institute. Their strong approbation guided the renovation of the institute after the war. He also acted as chairman of the Radcliffe Committee to enquire the Government monetary and credit system from 1957.
Cyril Radcliffe was awarded Knight Commander of the Order of the British Empire (KBE) in 1944 and Knight Grand Cross of the Order of the British Empire (GBE) in 1948. In 1949 Radcliffe became the member of the Privy Council. He also made a hereditary peer in 1962. In 2006 Chancery Barristers' Chambers in Lincoln's Inn named Radcliffe Chambers' after his name. Cyril John Radcliffe died on 1 April 1977 in London. [ATM Zayed Hossain]