Rahim, Quazi Mohammad Fazlur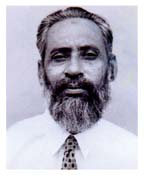 Rahim, Quazi Mohammad Fazlur (1917-2004) Livestock scientist and educationist. Born in the village of Dhanbari of Tangail district on 31 December 1917. His father's name was Quazi Mohammad Abdur Rauf and mother's name was Mrs. Amena Begum. He passed the Matriculation examination of Calcutta University in 1933 from Mymensingh Fulpur High School, ISc in 1935 from Ananda Mohan College and BSc in 1937 from Dhaka University. Later he received the MS and PhD degree in Quantitative Genetics in 1955 from Texas A and M University, USA, under fulbright grant.
He started his service career as an Assistant Livestock Officer in Nadia district of the undivided Bengal. Later in 1947, he joined the East Bengal Veterinary College as a Lecturer. His service was transferred to the newly established campus of Veterinary College at Mymensingh in 1957. He was called back to the Directorate of Livestock Services and was promoted to the position of Deputy Director in 1958 but after a few days he was asigned back to the Veterinary College at Mymensingh for teaching. After the establishment of Bangladesh Agricultural University (BAU) in 1962, he joined the Department of Animal Genetics and Breeding as an Assistant Professor.
He was promoted to the rank of a Professor in 1964. He took charge as the head of Department from 1964 to 1971 and Dean of the Faculty of Animal Husbandry from 1964 to 1969. He retired from the Government service in 1968 and then joined the services of the BAU permanently. During his service at the BAU, he was given the charge of coordinator of Advanced Studies and Research of the University. He was appointed as the Vice-Chancellor of BAU in two terms, from January 1971 to July 1971 and from January 1972 to November 1973. He could not continue to work as the Vice Chancellor for long after the independence of Bangladesh due to his ill health, but he continued to work as a professor in his own Department till his retirement in 1981.
In recognition of his outstanding contribution in agricultural education and national development he was honoured with Tomgha-e-Quaid-e- Azam by the government of Pakistan but he refused to accept it in protest of political and economic deprivation of East Pakistan. He hoisted the national flag of Bangladesh on 26 March in 1971 at the BAU campus. He died on 2 June 2004 at Sikder hospital in Dhaka at the age of 87 years. [Jahangir Alam]