Rahman, Abul Fazal Ziaur (1926-1971) physician, army officer and martyr in the War of Liberation. He was born on 2 February 1926 at village Naogaon in Araihajar thana of Naryanganj district. His father Mohammad Mosleuddin Bhuiya was the chairman of Narayanganj Zilla Board. His mother was Masuma Chowdhury. Ziaur Rahman passed Matriculation in 1944 from Kathghar High School in Sandwip and ISc from Chittagong College in 1946. He obtained MBBS degree from Dhaka Medical College.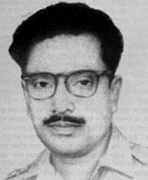 Ziaur Rahman started his career with Pakistan Army Medical Corps in 1949. He served as a physician in the CMH at Rangpur and Dhaka. He was promoted to the rank of Lt. Colonel in 1963. He was appointed as the Principal and Superintendent of Sylhet Medical College in 1968. He was Dean of the Faculty of Medicine during 1969-70. The construction work of the new building of Sylhet Medical College, students hostel, residential quarters of the teachers was launched by his initiative, and a programme for reorganisation of the hospital was initiated.  
Ziaur Rahman was transferred to Islamabad in Pakistan in 1971. But he defied the order of transfer. He along with his family members were kept under house arrest by the Pak army for his alleged cooperation with the freedom fighters. He was abducted by the Pak army from his house on 14 April 1971. After this he could not be traced.
The Postal Department of the Peoples' Republic of Bangladesh issued commemorative postal stamp in the name of Ziaur Rahman on the Martyred Intellectual Day on 14 December 1995. [Bayzid Khurshid Reaz]