Rahman, Birsrestha Matiur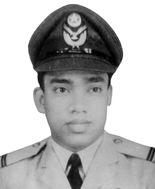 Rahman, Birsrestha Matiur (1941-1971) an Air Force officer, martyr in the war of liberation. Matiur Rahman was born on 29 November 1941 at his paternal house at Aga Sadeq Road in Dhaka. He received his primary education at Dhaka Collegiate School. Next he got himself admitted into Pakistan Air Force Public School at Sargoda in West Pakistan. After completing his twelfth class course in the Public School he entered Pakistan Air Force Academy. He was commissioned in June 1963 and was posted at Risalpur in West Pakistan. He successfully completed the Jet Conversion Course in Karachi before he was appointed a Jet Pilot in Peshawar.
During the War of Liberation in 1971, while at home on leave Flight Lieutenant Matiur Rahman organized the local freedom fighters and took part in a battle against the Pak army at Bhairab. But under pressure from his family members he returned to his place of posting in Pakistan in the month of May. Rahman made a secret plan of hijacking an aircraft and to join the liberation forces with the plane. In the morning of 20 August Pilot Officer Minhaz Rashid was scheduled to fly in a T-33 aircraft from Masrur Airbase in Karachi with Matiur Rahman as his trainer. The T-33 aircraft was code-named as Bluebird.
During the training flight Matiur Rahman attempted to take control of the aircraft into his own hands, but failed. The plane crashed in Thatta, a place near the Indian border. Matiur's dead body was found near the crash sight, but Minhaz's dead body could not be traced. Matiur Rahman was buried at the graveyard of fourth class employees at Masrur Airbase.
Matiur Rahman was awarded the highest state honour Birsrestha in recognition of his patriotism and sacrifice for the nation.
The mortal remains of Matiur Rahman had been carried to Dhaka on 24 June 2006 and laid to rest at the Martyred Intellectuals graveyard in Mirpur on the following day. [Md Selim]