Rahman, Birsrestha Mohammad Hamidur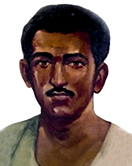 Rahman, Birsrestha Mohammad Hamidur (1945-1971) a sipahi of East Bengal Regiment and a martyr in the war of liberation. Hamidur Rahman was born in 1945 at village Dumuria in Chapra thana of the district of 24 Parganas in West Bengal. After the partition of India in 1947 his family migrated to East Bengal and permanently settled at Gharoda in Khalispur of Khulna district. He had his primary education at Khalispur Primary School and subsequently at a local night school. He joined East Bengal Regiment on 2 February 1971 and was posted at EBR centre in Chittagong cantonment. On the face of the attack of Pakistan army on 25 March, Hamidur Rahman left the cantonment for his village home, and then joined the liberation force at Dhalai on the south-western border of Kamalganj thana in Maulvibazar district.
For its strategic importance, the freedom fighters took a bid for capturing the Dhalai border outpost of the Pak-army. The 'C' Company of the First East Bengal Regiment was entrusted with the task, with which Hamidur Rahman was enrolled. There were constant encounters between the freedom fighters and the Pak-army from the night of 24 October till the sunset of 27 October with no tangeable result. On the night preceding 28 October, three platoons of freedom fighters silently advanced towards the outpost. The platoons while approaching near to the enemy post and were on the verge of attempting a surprise, a sudden explosion of a mine alarmed the enemies who started indiscriminate firing. A battle continued for hours; but the advance of the freedom fighters was seriously obstructed by enemy firing with LMG from the north-east direction.
At this critical juncture, Hamidur Rahman took a vow for destroying the LMG post of the enemy. He seceded in the darkness with grenades in hand, silently proceeded by crawling towards the LMG post, and at the end of the night killed the two LMG operators by grenade shots, thereby silencing the enemy guns; but he himself succumbed to death by an enemy bullet (28 October 1971). Thus the tide of the battle was turned and the outpost was captured by the freedom fighters.
The dead body of Hamidur Rahman was carried by the freedom fighters to about 30 km interior and was buried at Aambasa in Tripura Kingdom. A monument was later erected at Dhalai border on the spot of his death.
In recognition of his valour and sacrifice in the War of Liberation, Hamidur Rahman was honoured with the highest state insignia of 'Birsrestha'.
The mortal remains of Hamidur Rahman has recently been carried to Bangladesh, and buried in Dhaka. [Muazzam Hussain Khan]