Rahman, Habibur (1923-1976) poet, journalist and writer of children's literature, was born on 1 July 1923 in the village of Palish in Burdwan district, west bengal. After passing the Entrance examination (1940) from Calcutta Hare School, he got admitted to Presidency College. But due to financial hardship he could not continue his studies.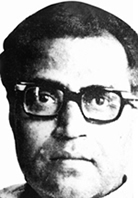 In 1943, Habibur Rahman started working in a coal factory at Asansol. He then taught at Calcutta Model High School for some time. In 1947 he joined the daily azad. In 1948, after partition he came to Dhaka and became assistant editor of the Azad. Subsequently he worked in the daily sangbad (1951), weekly Kafela, monthly saogat, the weekly begum, etc.  
Habibur Rahman worked in a number of local and foreign organisations. He was a Bangla translator-editor at Silver Burdet Company, an American publishing house (1955-56), USIS (1959-72) and Franklin Book Programmes (1973-74). He was also assistant director of the National Book Centre (1974-76). He was the founder editor of 'Khelaghar', the children's literary page of the Sangbad. He also conducted 'Mukuler Mahfil' of the Azad using his pen name 'Bagban'.
Habibur Rahman was well known as a writer of children' books, writing three novels for teenagers, five fairy tales, and one book of rhyme. He also wrote three biographies. He wrote poetry, plays and essays on science. He also did a number of translations. Among his well-known writings are Agdum Bagdum, Lej Diye Yay Chena, Bane Badade, Putuler Museum, Saptadibga, China Premer Galpa, etc. He died on 17 June 1976 in Dhaka. [Mahbubul Haque]