Rahman, Justice Hamoodur (1910-1975) Chief Justice of Pakistan. Hamoodur Rahman was born on 1 November 1910 at Patna in India. He obtained his graduation from the St Xavier's College in Kolkata, and LLB degree from the University of London, studied in Gray's Inn, London, and was called to the Bar in London in 1937.
Hamoodur Rahman began his career as a lawyer in Calcutta High Court in 1938. He was a councillor of the Calcutta Corporation (1940) and Deputy Mayor of Calcutta (1943). Hamoodur Rahman was a member of the Junior Standing Counsel of the province of Bengal from 1943 to 1947. After the partition of India in 1947 he opted for East Bengal and came to Dhaka in 1948. Hamoodur Rahman was appointed Advocate General of East Bengal in 1953. In 1954, he was elevated to the bench as a judge of the Dhaka High Court.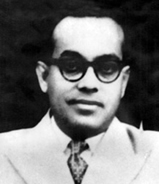 While a judge of the Dhaka High Court, Hamoodur Rahman was appointed as the Vice Chancellor of Dhaka University in November 1958 which office he held till 14 December 1960 when he was appointed a judge of the Supreme Court of Pakistan. He was made Chief Justice of Pakistan in 1968.
Justice Hamoodur Rahman held various dignified positions during his juridical career. He was a member of the International Court of Arbitration (The Hague, 1959-60), chairman of the Commission on Students Problems and Welfare (1964), member of Law Reforms Commission (1967), member of War Enquiry Commission (1972), member of United Nations Committee on Crime Prevention and Control (1972-73), and chairman of the Council of Islamic Ideology, Pakistan (1974-77).
Hamoodur Rahman chose to remain a citizen of Pakistan after the Bangladesh War of Liberation. He was made chairman of the committee for inquiring into the break-up of Pakistan and the role of the Pakistan army. His report revealed many aspects of politics in Pakistan army and particularly the atrocities committed by the army in East Pakistan during the War of Liberation. Hamoodur Rahman died on 31 October 1975. [Muazzam Hussain Khan]