Rahman, KM Obaidur (1940-2007) politician. He was born on 5 May 1940 at village Laskardia in Nagarkanda upazila of Faridpur district. His father was Khandakar Md. Atiqur Rahman. Obaidur Rahman obtained his MA degree in 1964 from Dhaka University.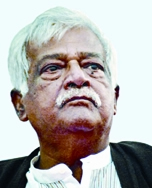 Obaidur Rahman was involved in politics in his student life. He was elected as general secretary of Dhaka University Central Students Union (DUCSU) for the term 1962-63. He played a leading role in Anti-Ayub student movement in 1962. He was elected as president of East Pakistan Students League in 1963. Obaid was expelled from the Dhaka University for five years for his alleged staging demonstration in the convocation of the University in 1964. He joined awami league in 1964 and had been the social welfare secretary of the party from 1966 to 1971. He played vital role in the six-point movement of 1966 and in mass upsurge of 1969.
In 1970, Obaidur Rahman was elected a member of the National Assembly of Pakistan. He had vital role in the non-cooperation movement of 1971 and in the War of Liberation. He organised the youths of Faridpur in the non-cooperation movement as the convenor of Faridpur District Co-ordination and Resistance Committee. When Pakistan army recaptured Faridpur in April he crossed over to India. During the War of Liberation he worked as the political motivator in Purulia Freedom Fighters Training Camp in India, and later was assigned the responsibility of administering the temporary office of Awami League in Kolkata.  
Obaidur Rahman was elected a member of the jatiya sangsad in the first election of independent Bangladesh in 1973. He was the deputy minister in charge of Post and Telegraph in 1973-75. He joined the bangladesh nationalist party (BNP) in 1978 and was elected a member of the Jatiya Sangsad in 1979. He was a member of the cabinet in charge of the Ministry of Fishery and Livestock and later of the Ministry of Aviation and Tourism. He was the secretary general of BNP in 1986-1988.
Obaidur Rahman was elected a member of the Jatiya Sangsad in 1996 and again in 2001. He had been the member of the standing committee of BNP until his death. For his views and political activities Obaidur Rahman had to suffer imprisonment several times from 1964 to 2001. He died on 21 March 2007. [ANM Abdus Sobhan]