Rajdhani Unnayan Kartripakkha
Rajdhani Unnayan Kartripakkha (RAJUK) a statutory body under the Ministry of Housing and Public Works is entrusted with the responsibility of initiating and implementing of Dhaka metropolitan city's development plans through planning. Prior to 1987, the name of institution was the Dhaka Improvement Trust (DIT). It was founded in 1956 under the Town Improvement Act 1953 with the special objectives of undertaking development programmes for Dhaka and Narayanganj and for some other areas in the vicinity of two towns. A 13-member board of trustees formed the apex of the DIT administrative structure. The development challenge posed by the rapid urbanisation of Dhaka and its environs in the 1970s and '80s necessitated amendment to the administrative and legal structure of DIT. The outcome was the Town Improvement (amendment) Act 1987, through which DIT was transformed into Rajdhani Unnayan Kartripakkha (Capital City Development Authority). Under this Act the physical area of operations of the reformed organisation (DIT's area of jurisdiction) was increased in 1991 from 320 sq miles to 590 sq miles with a population of nearly seven million.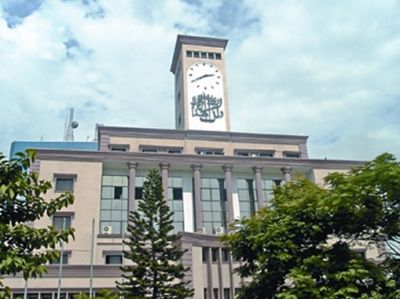 Rajuk runs by a board comprising a chairman and not more than five members. The chairman (equivalent an Additional Secretary) and members (equivalent Joint-Secretary level) are appointed by the government. The chairman is the chief executive of RAJUK. All members of the board are full time officials with specific responsibilities within the broad framework of the Rajuk set-up having five different divisions such as, development and engineering; estate and land; finance, budget and accounts; planning; and architecture.
Rajuk plays a vital role for sustainable development, planning and controlling of Dhaka metropolitan city through planned urbanaisation and approves building design. Moreover, Rajuk deals with different development projects of Dhaka city include: satellite-city and New city Projects, sight and services Project, to build commercial and industrial zone, widening roads and reduce congestions, lay out plans for better traffic circulation, providing open spaces for recreation, demolishing or constructing buildings and construction of roads, bridges, culverts, park, religious placing, shopping mall, market, car parking space, academic institution, playground and lake etc. Rajuk also takes beautification project and rehabilitation project for suffering people.
Rajuk revised the Master Plan for Dhaka city drawn previously in 1959 and undertook many development projects. Financially and administratively, the most extensive of these projects are Banani-Baridhara development project (1990); housing for Rajuk personnel (1990); development of Kawranbazar, Mohakhali and Postogola; development of low-land between Dhaka-Narayanganj road and railway; Uttara model residential town; development of Sonargaon Hotel area; clearing slums and developing the land adjacent to Zohura Market; expansion of Motijheel commercial area; and construction of several link roads. In addition to these ongoing projects, RAJUK has many other projects under study and planning.
In 1995, Dhaka Metropolitan Development Plan (DMDP) formed with an area of 590 sq mile (1528 sq km) of the mega city. DMDP launched the grand-project (1995-2015) of which have three-tier consist of Structure plan, Urban Area Plan and Detailed Area Plan. Rajuk takes comprehensive detailed scheme for different zones of Dhaka Metropolitan city under the Structure plan consist of planned development stream, location of proposed streets and lay out infrastructure for the convenient of citizens. The duration of the project has been extended upto 2035. The development policy of existing vicinity's area of Rajuk is also under the Urban Area plan. Prior to propound the Urban Area plan, it worked as a flexible development. On 22 June 2010, the Detailed Area Plan has published in the government official gazette.
Rajuk takes various projects and does financing for the development of its inhabitants. The projects are included: Gulshan Model Town, Baridhara Residential And Diplomatic Zone, Nikunju (I and II), Uttara (I, II and III phase), Purbachal New City Project, Jhilmil Residential Zone, to build 22,512 flats at Uttara, Combined Development Project in Hatirjil and Begunbari Khal, Beautification and Improvement Project at Gulshan-Banani-Mahakhali and Gulshan-Banani-Baridhara Lake, to set up Multi-storeyed Car Parking cum office building at Gulshan I, all maps, records and papers converted to digital version, to construct flyover between Kuril and Biswa Road intersection, extended Bijoy Sharani Project etc. [Md Asraful Islam]