Rangpur Zila School is one of the earliest educational institutions of greater rangpur, established in 1832. It was then known as Rangpur Zamindar School. Some leading zamindar families and Nathanial Smith, the District Collector of Rangpur, took initiative for its establishment. It was inaugurated by Governor General lord william bentinck. It was housed in a large two-storeyed building donated by the Maharaja of Cooch Behar. Zamindar Rajmohan Roy Chowdhury (1787-1847) of Kundi was its founder secretary and Krishna Nath Ray its first headmaster. It was taken over by the government in 1857 as an aided institution and affiliated with the calcutta university.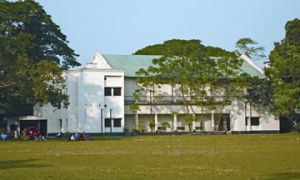 As a part of the government scheme to establish a Zila School in every district, the school was taken over by the government in 1862 and renamed as Rangpur Zila School. The government then sanctioned an annual grant of Rs 2616 to the school.
During the year 1870-1874, a new land was acquired to extend the school campus and funds were mobilised to construct a new building for it. In 1899, the school had 367 students. By 1914, it was able to build 3 hostels - one each for the Brahmans, scheduled caste Hindus and Muslims. In 1874, the zamindars of the district introduced one silver medal (Dayal Singh Silver Medal) and two scholarships of Rs 8 and Rs 10 per month for meritorious students.
Since 1990, the classes of the school have been running in two shifts, morning and evening with 53 teachers for the two shifts. At present, the school stands on 15.66 acres of land with a big administrative building opened by Sir ashley eden, the then Lt Governor of Bengal (1877-82). Classes of the arts, science and commerce sections are held in three two-storeyed buildings. The school has a library with a collection of about 10,000 books. [Muhammad Maniruzzaman]