Ranvijaypur Mosque one domed mosque situated in the village Ranvijaypur, near Bagerhat. It stands at a point of the Bagerhat town - Shatgumbad road wherefrom another road strikes off towards the dargah of khan jahan on the south. This mosque, also called the Fakirbari Mosque, is one of the well-protected and best preserved monuments in Bangladesh, and stylistically dated to the time of Khan Jahan (d 1459 AD).
Built of well-burnt brick the mosque consists of a large single square hall (inside 10.82m a side) covered over by a large hemispherical brick dome. The walls are abnormally thick (2.74m) and are pierced with three two-centred pointed archways - three in each side excepting the qibla wall.'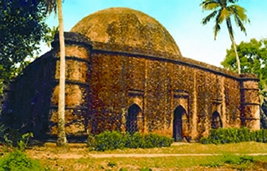 The central archway in each side is traditionally larger than the side ones. Corresponding to the three entrances in the east wall there are three semi-circular mihrabs in the qibla wall, the central one is bigger than the flanking ones. The central mihrab shows a rectangular projection on the exterior side, which extends upwards breaking the only, curved cornice band of the building but does not rise above the roof.
The towers emphasising the four exterior angles of the building are circular in Khan Jahani style. They are slightly moulded at their bases and completely plain on the tops. The large dome, that covers the single square room below, rests on four half-domed squinches and four arches springing from the brick pilasters, two inside each wall.
The ornamentation of the building, wrought in terracotta, has mostly disappeared. They are now seen in the entranceways, mihrabs, cornice band and corner towers. Of the varieties of decorative motif rosettes, jali-work, floral scrolls, lozenges and hanging patterns are prominent.
Considering its archaeological importance the mosque was declared a protected monument in 1961 and consequently the Pakistan and Bangladesh Archaeological Departments repaired it extensively. Architecturally this is one of the interesting monuments in Lower Bengal. In structural solidity, massiveness and graceful proportion of its different component parts the Ranbijaypur mosque compares well with the dakhil darwaza at Gaur. Although restored and repaired a number of times, the mosque has retained its original character and is a good example of Khan Jahani style of architecture. A noteworthy aspect of the building is that the exterior of its dome, which is now plastered smooth, was originally decorated with circular rows of bricks set corner-wise at regular intervals. This is an unusual decorative technique in Bengal architecture, which was possibly derived from the dome of the mausoleum of Ismail Samanid (d 907) at Bukhara. [MA Bari]