Rasasundari, Shreemati (1810-1899) writer, was born on March 1810 in a remote village of Pabna. She was entirely a self-educated woman.
At the age of 12, she was married to Sitanath Sarkar, a small zamindar in the village of Ramdia in Faridpur. Her husband had three widowed sisters living in the same household, but no brother. Particularly her mother-in-law, were affectionate towards her and treated her kindly.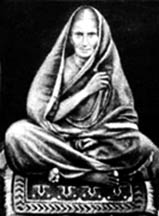 A Vaisnavite, Rasasundari was deeply religious and had a strong desire to read religious literature, especially chaitanya bhagavata. An opportunity unfolded itself more than a decade after her marriage when, one day, her husband left with her a hand-written copy of Chaitanya Bhagavata.  She hid a few pages of the manuscript and, whenever got the chance, tried, with her almost forgotten knowledge of the Bangla alphabet, to read those pages.  Thus, she learnt to read at the age of twenty-five. After another twenty-five years, at the insistence of one of her sons, she learnt how to write.  In the meantime, her husband died when she was fifty-nine, and she suddenly found herself lonely with no domestic chores. It was, at that time, that she started writing the story of her own life.  She published her autobiography Amar Jiban (My Life) in 1876.
Written in a plain and simple language, Rasasundari narrates mainly her own life and hardly gives any details of her husband or children. Even so, from the glimpses of her married life that one can see, it becomes clear how impassionate was the husband-wife relation. In a strictly secluded family, she never saw her husband during the day and could never get over her endless sense of shyness towards him. She also writes how, in spite of having a number of maidservants, she, as the wife, was expected to do all domestic chores from early morning until midnight, and to eat after feeding everyone else. The two comments she made about her husband were that he was litigious and kind. Although she turns a blind eye towards society, unknowingly she depicts a picture of her changing world, including changing roles of women. Throughout her autobiography, she expresses her profound devotion to her deity.
She added a second part in a new version of her autobiography published one year before. she died in 1899. [Ghulam Murshid]
Bibliography' Rasasundari Devi, Amar Jiban, Sucharu Press, Kolkata, 1876; Ghulam Murshid, Rasasundari theke Rokeya: Nari-pragatir Eksho Bacchor, Bangla Academy, Dhaka, 1993.