Rashid, M Harunur (1925-2010) Archaeologist M Harunur Rashid was born in 1925 at village Rasulullahbad in Brahmanbaria district. Harunur Rashid matriculated in 1940 from Abu Torab High School, Chittagong and passed IA in 1942 from Dhaka College. He obtained BA (Hons) in 1945 and MA in History in 1946 from the university of dhaka. Harunur Rashid joined Bhairab College as a Lecturer in History which later he left to join the Archaeology Department of Pakistan. He worked as a curator at Lahore Museum and later joined the Taxila Museum. While at Taxila, Rashid participated in excavation activities under the supervision of Sir mortimer wheeler. He was a fellow of Taxila School of Archaeology, which brought for him an opportunity to become a specialist in the Field of Archaeology. He excavated Bambhore, Taxila, Harappa-Mohenjodaro and many other sites of Pakistan. He was awarded PhD from the Cambridge University in 1968 for his dissertation entitled The Early History of South-east Bengal in the light of recent Archaeological Materials.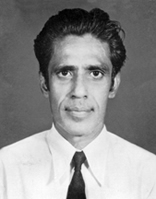 Harunur Rashid was honoured with the state award 'Tamgha-i-Pakistan' by the Government of Pakistan for his contributions to the archaeological studies of Pakistan. But later he renounced his award in protest against the genocide in 1971. After the Liberation of Bangladesh, Harunur Rashid continued to work as a senior official in the Directorate of Archaeology till his retirement in 1982. He edited a number of archaeological surveys under the series Pakistan Archaeology. He also compiled and edited the volume on Bangladesh Archaeology (1979).
Harunur Rashid made substantial contribution to the unveiling of the archeological treasures and heritage in different sites. He led the excavations at mainamati-lalmai, paharpur, mahasthan and some other sites in Bangladesh. Dr. Harunur Rashid was the head of exploration and excavation in the Directorate of Archaeology until his retirement. He worked for a number of years as a Visiting Professor at the Department of History, Jahangirnagar University, Savar. While teaching there, he played important role in planning and founding the Department of Archaeology. He also taught at the Institute of Fine Arts and History Department of the University of Dhaka.
Dr Harunur Rashid died in Dhaka on 10 October 2010. [Mokammal H Bhuiyan]