Rasmoni, Rani (1793-1861) philanthropist and a religious activist. She was born on 26 September 1793 in a humble peasant family of Harekrishna Das in Kona village, in present day North 24 Parganas. She was married to Babu Rajachandra Das of Janbazar, Kolkata, a member of a wealthy zamindar family, when she was eleven years old. After her husband's death, she at the age of forty-three took charge of the zamindari and business. She soon proved herself a natural leader.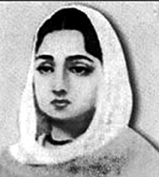 Rasmoni continued to use the family wealth for remarkable feats of planned social works as well as charity. She was the founder of the Dakshineswar Kali Temple, Kolkata, and remained closely associated with Sri Ramakrishna Paramhansa after she appointed him as the priest of the temple. The dakshineswar temple was an instance of social reform no less than piety, for she was of low caste and the Brahmins had opposed the foundation of the temple.
She also fought for the cause of the poor fishermen and won for them the right to fish in the Ganges. By blocking the shipping trade on a part of Ganges she compelled the British to abolish the tax imposed on fishing in the river, which threatened the livelihood of poor fishermen. When the British on the charge that they disturbed the peace stopped Puja processions, she defied the orders. The British had to withdraw the penalty imposed on her in the face of public opposition and rioting in her support.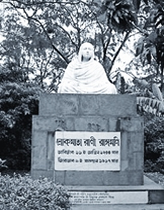 Rasmoni commanded vast estates in the city, including several prominent markets such as Jan Bazar, Rasmoni Bazar and Jadu Babu's Bazar. The last mentioned bazar was named after her grandson. Rani Rashmoni also had to her credit numerous charitable works and other contributions to society. She oversaw the construction of a road from Subarnarekha River to Pari for pilgrims. She funded the construction of ghats such as Babughat (in memory of her husband), Ahiritola Ghat and Nimtala Ghat for the daily bathers in the Ganges. She donated generously to the then Imperial Library (now the National Library of India) and hindu college  (now presidency college).
The Rani was an autonomist in her viewpoint and stood by what she measured reasonable and just. Her daring performance and confrontations with the British in India had grown to be family stories in her time.
She held high the aspects of Hinduism, which was the result of her spiritual attitude. Her outstanding social work, philanthropic nature were notable aspects behind a great soul for which people started calling her Rani or the queen. Rani Rasmoni passed away on 19 February 1861. As in the precedent, the enormous achievements of her life will carry on motivating many a generation to approach. The Department of Posts is glad to pass out a postage stamp to memorialize the bicentennial of this memorable personal. [Aksadul Alam]