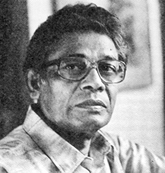 Razzaq, Abdur2 (1932-2005) Painter, sculptor and teacher of fine arts was born in 1932 at Digarmahishkhali of Shariatpur district. He passed the higher secondary examination in science group from rajendra college of Faridpur in 1948 and got admitted to the Government Institute of Fine Arts of Dhaka in the same year. He obtained Diploma from there in 1954 becoming first class first position. Abdur Razzaq went to the United States with a Fulbright Scholarship in 1955 for post-graduate education at the Iowa State University. He completed the Master of Fine Arts (MFA) course in 1957. Abdur Razzaq is the first Bangladeshi who obtained a postgraduate degree in fine arts from abroad.
After returning from America, Abdur Razzaq joined the Government Fine Arts Institute as a Lecturer in 1958. He discharged the crucial responsibility of creating an environment for institutional education and training on the art of sculpture. For this, he started to work as the founder head of the sculpture department in 1963. Moreover, he had to discharge the responsibility of principal of Bangladesh College of Arts and Crafts. At this juncture, the college was transformed into an institute under the university of dhaka. Beside the development of sculpture department, Abdur Razzaq focused on his own art-works and sculptures. He was the Acting Director of the Institute of Fine Arts until 1985.
He created numerous paintings in watercolour portraying various features of Dhaka city and its transformations. He demonstrated his adeptness in watercolour from his student life. He studied print and graphic art while receiving higher education in the USA. He was specially drawn to various methods of etched art such as etching, dry point, aquatint, matzo-tint and engraving. In addition, he persevered to gain expertise in making designs on metal and wood etchings in lithograph and woodcuts. Mixed media were also his favourites.
Most of the paintings drawn by him have sizes ranging from moderate to large. His style is dominated by abstract expressionism. The oil in his paintings shows a normal hue and brightness. The blue and green colours surpass all others in their intensity. Just as these colours are present in nature in all their varieties, they find expression in Razzaq's canvas as well. The two colours have symbolic meaning and are symbols of life and infinite peace. However, the use of bright colours is also noticeable in his art works. His art works depict reflections from various elements of nature such as flowers and leaves or the cloudy sky. The blueness of the sky and the presence of white cotton-like clouds have endowed Razzaq's art works with a unique characteristic. The large paintings that he created between 1975 and 1985 display the dominance of red, yellow, brown, gray and mixed colours. These works were abstract expressionist paintings based on colour arrangements. Usually, he used to avoid reflections of reality in his paintings. Rather, he liked to express different shapes with the incremental pervasiveness of colours.
Artist Razzaq played a vital role in establishing sculpture as a modern medium of art. A modern and well-designed education programme on this subject flourished under his leadership. At the same time, he devoted himself in creating sculpture. Just after the independence, the Bangladesh Air Force assigned him to make a 10-feet high sculpture named Shaheen. At the same time, he built the huge sculpture titled Muktijoddha (Freedom Fighter) on a road intersection in Joydebpur after being invited by Bangladesh Army. Built with concrete, this sculpture put an 18-feet tall statue of a freedom fighter on a 24-feet high podium. Well known as 'Jagrata Chourangi', this sculpture was built in memory of the heroic resistance of the Bangalee soldiers against the genocide unleashed by the Pakistani army on the night of 25 March 1971. This memorial shows a freedom fighter confronting the invading enemy with a rifle in one hand and a grenade in the other. A new dimension was added to the art of sculpture in Bangladesh by installing a huge human statue at a populous and open compound.
The sculptures built by Razzaq and installed in Jaidebpur and other cantonments are basically human statues. He also built many purely abstract and semi-abstract sculptures by drawing inspiration from his independent artistic spirit. But these creations varied in terms of ingredients and sizes. He used cement, steel, stone, iron, bronze and wood as mediums. He retired from in Dhaka University in 1990 at the age of 60; but he was reappointed for another two years. Later, he got another extension for two years and then for one year (total 5 years) in the same position.
Abdur Razzaq was awarded the Ekushey Padak in 1989 in recognition of his contributions in the field of fine arts. He also received the prize of Bangladesh Charushilpi Sangsad. He died on 23 October 2005. [Nazrul Islam]