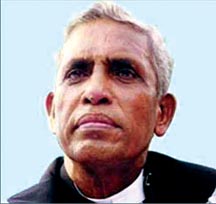 Razzaq, Abdur3 (1942-2011) politician, frontline organiser of the war of liberation. He was born on 1 August 1942 at village South Damudya in Damudya upazila of Shariatpur district. His father was Imamuddin and mother Begum Akfatunnesa. Abdur Razzaq passed SSC examination from Damudya Muslim High School in 1958 and HSC from Dhaka College in 1960. He obtained BA (Hons) in Political Science in 1964 and later got Masters degree from Dhaka University. He also completed LLB in 1967 from the same university.
Abdur Razzaq entered politics even while a student. He was one of the three members of the core committee of Swadhin Bangla Biplabi Parishad, widely known as 'nucleus', a radical group of the Chhatra League which in early 1960s had conceived of the idea of an independent nation. He was a member of the central committee of Chhatra League from 1960 to 1962. Abdur Razzaq was elected secretary of the Fazlul Huq Hall Student Union of Dhaka University in 1963. He was arrested several times and served time as a political prisoner. The first time he was sent to jail during 1964-65 in the Ayub Khan regime. He was the general secretary of Chhatra League for two terms in 1966-67 and 1967-68.
He was actively involved with the six point Movement of 1966, the eleven point Programme and the mass upsurge of 1969 when he was occasionally kept confined. Abdur Razzaq was elected a member of the East Pakistan Provincial Assembly in 1970. He was among those young crop of politicians who were to make significant contributions to the 1971 Liberation War. Abdur Razzaq was one of the four commanders of the mujib bahini during the War of Liberation. He also organised the training of freedom fighters in Dehradun.
After the emergence of Bangladesh, Abdur Razzaq emerged as a popular parliamentarian, and served in the party and government in different positions for a considerable period of time. He was the organising secretary of Awami League during 1972-1975. He was elected a member of the Jatiya Sangsad in 1973 from Shariatpur-3 constituency. He was made secretary of bangladesh krishak sramik awami league (BAKSAL) formed by Bangabandhu sheikh mujibur rahman in 1975. Abdur Razzaq was arrested in 1975 after the assassination of Bangabandhu Sheikh Mujibur Rahman. He had been the general secretary of Awami League in 1978-1981. He left Awami League in 1983 and again formed baksal. In the 1980s and early 1990s, the participation of Abdur Razzaq in the movement against HM Ershad's autocratic rule was vibrant. He was jailed again in 1987 by the Ershad military regime. He became the presidium member of Awami League in 1992 when the two parties, BAKSAL and Awami League, merged and remained in the position till 2009 before becoming its advisory council member on 29 July 2009. He was elected a member of the Jatiya Sangsad in 1991, 1996 and 2001. At the ninth parliamentary election in 2008, he was elected a member of the Jatiya Sangsad from Shariatpur-3 constituency. Abdur Razzaq was a member of the Cabinet in charge of the Ministry of Water Resources in 1996-2001 tenure of the ruling Awami League. Till his passing away, he had been the chairman of the parliamentary standing committee on Water Resources Ministry.
Abdur Razzaq was also a member of the Ghatak Dalal Nirmul Committee which was formed to press home the demand for trial of the war criminals of War of Liberation in 1971. He breathed his last on 23 December 2011 while under treatment at King's College Hospital in London. [Tahmida Khanam]