Renewable Energy Research Centre
Renewable Energy Research Centre (RERC) a research organisation committed to the development of renewable energy conversion in this country. With this general aim, the projects taken up by the centre belong to the various branches of science, both biological and physical, and involve different departments of the Dhaka University. It was established in 1986 under the Faculty of Science of the university and located in the university campus. This centre is an autonomous body and is managed by an advisory board chaired by the Vice Chancellor of Dhaka University.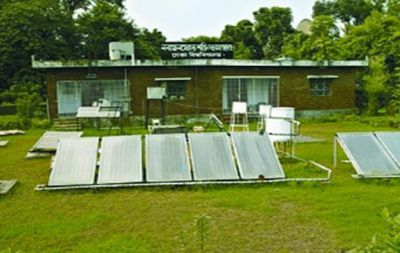 The Head of the centre is a director nominated by the Vice Chancellor. The aims and objectives of the centre are: to organise research activities in the field of solar and other alternative sources of energy; to help establish multi-disciplinary research activities in this field; to look for international assistance and collaborations and to coordinate and establish liaison with scientists and engineers working in other institutions inside and outside the country. The Centre has its own scientific laboratory. Every year, a number of researchers work at the centre for their MSc, MPhil, and PhD degrees.
Every year researchers of this Centre publish papers on their research activities in different national and international journals. At the moment, it is engaged in long-term research on conversion of solar energy into electricity through solar cells and is trying to popularise the technology. [Md Kamrul Alam Khan]
See also solar park.