Rohanpur Octagonal Tomb is situated in the village of Nauda, which is about three kilometres to the northeast of the Rohanpur Railway station, in the Nawabganj district. The building is the only extant monument in the Rohanpur-Nauda area. The adjoining villages of Pirpur, Bhagalpur, Prasadpur and Qasba, located near the junction of the Mahananda and the Punarbhava have evidence of archaeological remains with a good number of mounds and ponds together with numerous brick-bats and potsherds.
Built of brick the building, much decayed before its protection and restoration by the Department of Archaeology, Bangladesh, forms a large octagon measuring about 26.52m across in the outside. Each of the eight walls, having a thickness of about 1.37m, is about 4.34m long. The building is entered through three axial doorways; the northern wall of the building is completely bloked and internally recessed with a semi-octagonal mihrab niche exactly in alignment of the southern arched doorway.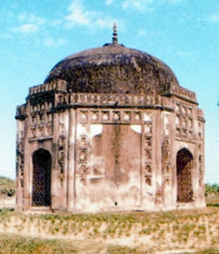 All the doorways have projected frontons having bordering ornamental minarets. The doorway facades are profusely panelled showing varieties of arched motifs. The horizontal parapets have a row of blind merlons. The building is roofed over with a big dome on an octagonal drum carried directly on the eight walls. The dome is crowned with usual lotus and kalasa finial, and has internally basal leaf ornamentation.
The building has been stylistically dated to the end of the 17th century. But what the building was originally designed for is not accurately known today. The building has been locally identified as a tomb, although at present there is no grave or sarcophagus inside.
The building deserves special mention because of its two characteristic features: (a) octagonal plan and (b) the mihrab niches inside the north wall. In point of times this is perhaps the first example of an octagonal building in the history of Muslim architecture in Bengal. Later on the type re-appeared in the octagonal tomb at Begumpur in Rajmahal, the last known example of its kind in Bengal so far. Its idea must have been borrowed from the octagonal tombs of the Tughlaq, Sayyid and Lodi periods.  
The particular feature of having a mihrab provides with a clue to designate the building under study as a tomb. A number of tombs in Islamic Persia such as those at Tayyabad, Turbat-i-Jam, Turuk and subsequently the mausoleum of Sultan Oljeitu Khudabanda (1305-15) at Sultaniya or the Imamzada Duvazda Imam (1036) at Yazd contain mihrab. A number of instances are available in northern India during the Sultanate period. In Bengal a few examples of tomb building containing mihrabs are known, such as the Kumarpur tomb (c 1655-56) and shah niamatullah's tomb (c 1664) in Nawabganj. [MA Bari]