Rose Garden a vila with elegant building and a garden of roses, was established in early 1930s on seven acres of land at Tikatuly in dhaka by zamindar Hrishikesh Das.
With big dome, tall corinthian Greek style, various garden statues and ornamentations, fountains, ponds, stained and decorative windows, tall crystal chandeliers, a huge garden of various species of roses and above all luscious landscape. Rose Garden is a palace of incredible architecture.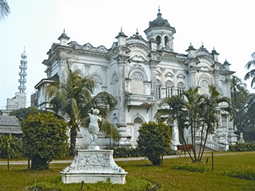 The symmetrical faced construction is divided into five segments with six multi-height fluted columns with elaborate foliage-capital placed on equally elaborate bases. All arches over the openings in the middle three sections are moulded and semi-circular. Parapets over the two sections flanking the central one have semi-circular gables. The central bay has a crescent-balcony over the entry through three arches, approached by elaborate steps from the garden and flanked by railing and life-size statues. There is a vehicular entry round from the east under a portico. Besides there are rectangular balconies over cast-iron brackets in each other sections facilitating garden view. A lantern dome atop the central bay stands on eight columns and pointed arches.
All the openings are decorated in intricate geometric pattern, foliage and animal motifs in wood, coloured Belgian glass and iron. There is a huge marble-floor ball room upstairs. Its ceiling has floral design done with green mirrors. There is an intricately designed spiral staircase in front of the ballroom to lead to the roof. The railings of the staircase are made of' cement curved in various geometric moulds.  
Surrounded by high walls, the west-facing building is about 45 feet in height and is nearly 7000 square feet in area. Except the facade all other sides are rather unadorned. The pitch-roof on the bland side wings ends in triangular gables at the east and west, which look colonial. A major part of the building seems to be of pink colour. However an age-old pale ash tint hangs over it now.
In 1936 Khan Bahadur Kazi Abdur Rashid, an entrepreneur and zamindar bought the estate from Hrishikesh Das. He moved into Rose Garden with his family in 1937 and named it as Rashid Manzil.
Many important political meetings mainly after the partition of India were held at the Rose Garden, attended by great leaders of Bengal. It experienced innumerable social gatherings and visits of many famous people of India and Bangladesh. In 1966 Kazi Abdur Raquib, Rashid's second son rented out the Estate to Bengal Studios and Motion Pictures. In no time it became a' popular spot of many movies then evolved around stories of kings and zamindars. The very first cinema was produced in this studio 'Harano Din'. The people saw the grandeur of Rose Garden by watching the movies shot at its premises.
The Archaeology Department included the building in its 'protection list' in 1989 and has been looking after it since then. [ASM Enayet Karim]