Roy, Atindra Mohan (1894-1979) a revolutionary leader, was born in 1894 in a zamindar family of village Bholachang in Nabinagar Upazila of Brahmanbaria district. On completion of his early education at home, his father Ananda Mohan Roy sent him to Yousuf High School in Comilla. While at school he came in touch with the members of the anushilan samiti, a revolutionary group organized in eastern part of the province of Bengal by Pulin Das, and joined that group as an active member. While a second year student of Comilla Victoria College he was arrested and sent to jail for his alleged connection with the Anushilan revolutionaries, thus putting an end to his further academic pursuit. After his release from detention in 1921 he came in close contact with the rebel poet Kazi Nazrul Islam when the latter came to Comilla. In 1922, Atindra Mohan congratulated poet Nazrul on his publication of the weekly Dhumketu which he designated as a mouthpiece of the revolutionaries.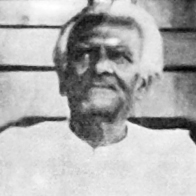 For his active participation in revolutionary politics which included armed training of revolutionary party cadre, arms collection by purchase from clandestine and foreign sources, fund collection through armed raids in the houses of the rich British loyalists and on postal mail bags, Atindra Mohan was kept in detention on several occasions for a total period of twenty five years. During detention in prison he had to undergo hunger strike continuously for 35 days along with other prisoners to press home demand for better treatment of the political prisoners. During his long period of detention he was once sent to the open detention camp at Labpur in Birbhum District, where he developed intimacy with the renowned Bengali novelist Tara Shankar Bandopadhyaya who hailed from Labpur. It is said that inspired by the deep devotion of Atin Roy in armed revolutionary politics for the liberation of the country, Tara Shankar in his novel Gana Devata depicted the character of Jatin, one of his heroes, which reflected the short stay of detenu Atin Roy at Labpur.
Atin Roy organized an underground revolutionary group in Comilla, and trained them at Udayapur in Tripura state in the use of arms to prepare themselves for an armed revolution all over India simultaneously with other armed groups of Anushilan, Jugantar etc. But the plan leaked out, and persons involved in the conspiracy were arrested and sent to jail. Atin Roy managed to go underground, but after 14 months of hiding he was tracked down by the police, and was sentenced to 24 years of rigorous imprisonment.
Atin Roy and his revolutionary comrades received financial assistance from the Maharaja of Agartala in their freedom struggle. After his release from detention he set up a business organization styled as House of Labour in Comilla town, and engaged many of his revolutionary comrades in productive business activities to camouflage their movements for secret political activities. An associated concern of House of Labour was the Comilla Electric Supply Ltd., a public limited company for supply of electricity, of which Atin Roy was the first Managing Director.
While in Deuli Jail in Rajasthan, Atin Roy and his fellow revolutionaries attracted by the Bolshevik socialist revolution in Russia took to the study of Marxism, and became a Marxist activist. He and his comrades decided to form a Marxist Party under the name and style of Revolutionary Socialist Party (RSP) to work for the emancipation of the toiling masses of India. Since then Atin Roy actively engaged himself in organizing the Party.
After his release from detention in the wake of Quit India Movement (1942) Atin Roy devoted himself to public welfare, and was elected Chairman of Comilla Municipality in 1946 to continue till 1954. He was interested in education, culture and social upliftment. He founded in 1930 a nationalist primary school named Bidyayatan at Kandirpar in Comilla. It was later upgraded into a Grils' High School in a new site with the name Farida Bidyayatan. Atin Roy was the secretary of the managing committee of the school for long years. On the death of one of his close political comrades, Amulya Mukherjee, he established Amulya Smrti Pathagar at Kandirpar in Comilla. He had immense contribution to Abhoy Ashram, Bir Chandra Pathagar, Basanta Smrti Pathagar.
Atin Roy actively supported the Language Movement in 1952. When workers of RSP in a conference held in Dhaka in 1969 formed a new party named Sramik Krishak Samajbadi Dal he had his blessings and support to that party. He was also a patron and promoter of children organization Kachi Kanchar Mela in Comilla. After the crackdown of Pakistan Army in 1971 he managed to escape to Kolkata. There he contacted the Indian government seeking their support and help in the liberation war of Bangladesh. During his absence his only son Ashim Roy, demonstrator of Comilla Govt. Victoria College, was killed by the Pakistan occupation army. After independence he returned to Comilla. His last days were passed as a lonely and withdrawn person. [Ajit Kumar Chowdhury]