Saha, Ranada Prasad (1896-1971) a social worker and promoter of education, is well-known as RP Saha. He was born in a village called kachoir under shimulia union of Savar upazila on 15 November 1896 at his maternal uncles home. He was the second child of Debendranath Podder and Kumudini Devi, who are parents of three sons and a daughter. Hailed from Mirzapur village of Tangail district Debendranath had no specific profession, although his ancestors were involved in small scale trading. Debendranath worked as a deed-writer and he often appeased as a moneylender. Ranada lost his mother when he was only seven years old. His school education came to that after passing class three. Ramada fled to kolkata leaving home in his tender age. He had to work hard there as a poster, day laborer, rickshaw-puller and hawker to learn his bread. Later at one stage he was involved in the nationalist movement or 'swadeshi andolone'. For this he was in prison for few days.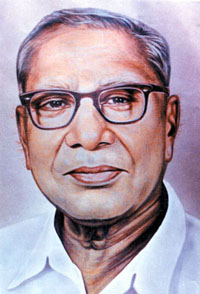 When the world war-1 kicked of on 28 July 1914, hundred of thousands Indian Youths joined in the British Indian Army. Ranada Prasad also joined there and was posted in the 'bengal ambulance corps'. He started to get training at Alipore Cantonment under the supervision of 16 Rajput Regiment from 01 April 1915 and after completing the training course he left Kolkata on 26 June 1915 for Mesopotamia. Ranada arrived in Amara town of Iraq on 15 July 1915 via Mumbai and Basra with his unit. They opened the Bengal Stationary Hospital there. Then Ranada was attached to the 2nd Field Ambulance Unit of the Division Six, which left for Kut-al-Amara (Kut) on 08 September 1915 to occupy Baghdad. After conquering Kut the 2nd Field Ambulance Unit advanced towards Baghdad. On the way when they arrived in Tesiphone area on 22 and 23 November a fierce fighting between the British and the Turkish forces took place.
Ramada took part in the battle for the British Army. But, they had to retreat to Kut affer being defeated. The Turkish forces seized Kut town resulting in the surrender of British Forces to them on 27 April 1916. Ranada Prasad and other Prisoner of war were brought to Baghdad and from there he came back to Kolkata on 26 September following the exchange of war prisoners Programme between England and Turkey.
Ranada Prasad Shaha joined the newly raised 'bangali paltan' in the 3rd week of November 1916 after his return to Kolkata. He was promoted to the rank of Lance Nayek in December next and was elevated to the Post of Jamadar on 25 August 1917. Ranada was trained up in the central physical Training and Bayonet Fighting School, Poona and in the middle of the next year he was transferred to Karachi Depot as an instructor. A team of Bangali Paltan led by Lt. DJ Wilkos and Jamadar Ranada Prasad arrived in Bengal on 23 January 1918 for a period of two months to recruit new soldiers. Ranada visited many places of the country to motivate the youth for joining in the Army demonstrating military drill supplemented by his convincing speeches. Following a declaration the World War 1 was stopped on 11 November 1918, and after that in a decree king George fifth of England declared 29 of July 1919 as the Peace Day.
A 'Victory March' and a function to celebrate the peace day were organised on the same day in England. Three delegates from the 49 bengali regiment or Bangali Paltan were invited to take part in the peace celebration Programmes. The officer Commanding and the Staff officers of Karachi Brigade Bangali Paltan on 25 June nominated Jamadar RP Saha, his orderly Sepoy Nittyagopal Bhattacharya and NCO Havildar Mohit Kumar Munshi as the delegates. A washer man and a sweeper were also included in the delegation. Ranada come back to Kolkata after disbandment of Bangali Paltan on 15 October 1920.
The government as a part of its re-employment Programme for the ex-servicemen provided Ranada a job in the Railway Department. He was given a post of 'Ticket Collector' with the posting in Sealdah-Darshana-Sirajgonj Ghat line. He took retirement in 1932 from the Railway and started a business of coal and salt in kolkata investing all the money he received as retirement package. Finding the coal business more profitable he gave up the self-trading. Initially he had to deliver coal himself to the doorsteps of every buyer's house. Later he started supply and contractory business of coal. He also acquired a dealership of coal in Kolkata. These steps had helped him to boost up his capital in a massive way within a short period. Satish Choudhury, Zamindar of Muktagacha collaborated Ranada to run his coal business.
At that time engines of motor launch were powered by coal energy. Many owners of those launch services failed to pay the outstanding dues of coal price. Ultimately, the in debtors had to sell their vessels to RP Saha. He used all the engine-boats for transportation of coal throughout the country. In 1939, RP shaha formed a shipping company named 'Bengal Rive service' with Zamindar Nripendranath Chudhury, Dr. bidhan chandra roy, Justice Roy Bahadur jadunath majumdar, and nalini ranjan sarkar as its Partners. Bengal River Service had to carry mainly freight through inland waterways of Bangladesh. Nripendranath choudhury was the first Managing Director of the company. After his death Ranada became the Managing Director and later he bought all the shares of other partners and emerged as the companies single owner. In real sense, that was the beginning of the rising period of RP Saha. He constructed a dockyard first of its type in the country, in Narayonganj for the repair and maintenance of the company motor launches engine boats belong to other companies and persons were also given servicing in this dockyard.
In 1940, Ranada took over all the jute businesses and establishments of George Anderson. David and company started Jute trading in Narayanganj 1929 and that company used to look after the management of Andersons' jute business there. RP Saha introduced a modern trend in the jute trading. He constructed a number of Jute hoards beside the jute mills for warding row jute and in 1946, he set up new bail pressing machine there. Earlier during the word war-II in 1942, the than government appointed four representatives in Bengal to procure and store up huge food grains. RP Saha was one of them. He earned a lot of profit from this business and eventually established himself as a leading trader and entrepreneur of Bangladesh before the partition of India.
As Ranada Prasad began his career through rendering service to the injured and ill persons in the battlefield, he continued this trend of humanitarian services in different sectors of the society even after becoming a successful business tycoon. He laid the foundation stone of kumudini Hospital, named after his mother at Mirzapur in 1938 and lunched the Shova Shundari Dispensary there in the same year in memory of his grand mother. The construction work of Kumudini Hospital began in 1943 and on 27 July; 1944, the Governor General of Bengal Lord RG Casey inaugurated the 20-bed hospital formally, Kumidini Hospital introduced the treatment of cancer patients in Bangladesh for the first time back in 1953. A 50-bed TB ward was opened in Kumudini Hospital in 1970. Ranada took up special measures to train up poor and distressed rural women for meeting up the growing need of nurses in his hospital.
Later a Nurse Training Centre was set up in the hospital campus. At present (2011), the number of beds in this hospital is 750. The hospital authority bears all the expenses of treatment of the patients including the fooding and accommodation. Ranada had a plan to establish a medical college for women adjacent to Kumudini Hospital. His dream was turned into a reality in 2001, after his death.
The wife of Ranada Prasad laid the foundation stone of a residential girls School (bharateswari homes) in 1938 to accommodate 200 students beside Shova-Shandari Dispensary. However, academic activities of the School initially got underway in 1944 at the residence of Ranada's paternal uncle Jogendra Poddar with 10 girl students. The school was named after his great-grand mother Bharateswari after the completion of construction work of the school building in 1945. The school, 'Bharateswari Homes ', the first residential girls school of the country began its journey formally in the some year with 55 students. The Homes authority used to bear all expenses of the girl-students. Besides modern education, emphasis is being given on the physical education and exercise of girls for their overall development. This secondary school was upgraded to the higher secondary level in 1962. Earlier in 1943, Ranada founded another college for women named Kumudini College' at Tangail and in 1942 he established Debendra College in Manikganj in memory of his father. Moreover he gave financial support to many educational institutions of the country for expansion of education.
When famine broke out in 1943 in Bengal, Ranada served the starving people by providing them with cooked food for four consecutive months from several Langarkhana (Open kitchen for the distressed people) set up in different places of the country including kolkata, Tangail and Mymensingh. He donated cash money to the Red Cross fund for the welfare of humanity suffered due to the devastation of World War-II in 1944. He constructed community centers, Public auditoriums and theatre halls beside hospitals, medical centres and educational institutions. A separate Maternity department was setup in the combined Military Hospital of Dhaka in 1958 by his initiative.
Ranada formed 'The Kumudini Welfare Trust Of Bengal (BD) Limited' in 1947 to run all of his business concerns and establishments including mills, factories and charitable organisations. The Trust started functioning from 22 March of 1947 from its headquarters setup in Narayanganj. With the Partition of India in 1947, the activities of kumudini welfare trust were also divided into two separate entities to look after the trust owned concerns lying in two countries. Charitable organisations in the Indian Territory of Kolkata, Kalimpong and Modhupur were taken over a separate management to run these from their profit. The Kumudini Trust itself is managing organisations lying in Bengal territory. Kumudini Hospital and Nursing Institute, women's medical College, Village Outreach Programme, Bharateshwari Homes, Trade Training School, Kumudini Handicrafts, Jute Baling and Ware House, Bengal River Service, Pharmaceutical plant and some other trading concerns are being run by the Trust.
Ranada Prasad was an amateur actor. He appeared in the theatre first in 1969 in the lead role of the drama 'Alamgir'. The British government conferred him the 'Ray Bahadur' title in 1944 for his role in World War II. The Government of Bangladesh also honoured him with the 'Independence Day Award', highest state recognition for his unparallel role in social service. The Kumudini Welfare Trust also bagged the Independence Day Award in 1984 for its contribution in social service. The postal Department of the Government of Bangladesh published a commemorative stamp on Ranada Prasad in 1991.
On 7 May 1971 the collaborators of Pakistani occupation army from Mirzapur abducted RP Saha and his son Bhavani Prasad Saha and no news about their whereabout has been unearthed till now. [Muhammad Lutful Huq]