Saogat an illustrated monthly journal, edited and published by mohammad nasiruddin, from Kolkata in Agrahayan 1325 BS (1918). It ceased publication in Chaitra 1327 BS (March-April 1921). It restarted in Asadh 1333 BS (1926) as Saogat-Nabaparjay (New Phase) and continued publication till 1337 BS (1930) after which it became irregular. There was no issue of the Saogat during 1950-1952. From 1952 (Agrahayan 1359 BS) the journal began to be published from Dhaka.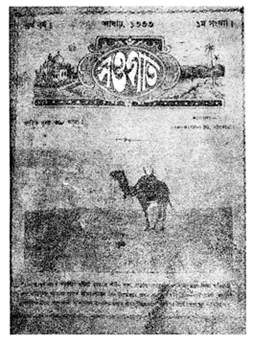 In the first issue of the Saogat, the editor laid down seven principles testifying to his commitment to publish a standard journal of liberal views and dedicated to social justice and communal harmony. On the first page of the inaugural issue, a poem by Mrs RS Hossain (roquiah sakhawat hossain) was printed, followed by a poem by mankumari basu, symbolising the journal's commitment to communal harmony.
In its inaugural issue, the Saogat published sixteen pictures of famous men and women. The Saogat's liberal outlook is suggested by the publication of women's pictures, as well as by the several articles published in it on female education and women's emancipation. It also encouraged promising female writers, publishing six special issues, called Women's Volume (Mahila Sangkhya) with contributions from established and fledgling writers of all communities.  

Kazi Nazrul Islam was one of the main contributors to the Saogat. His first publication in this journal was a story entitled 'Baundeler Atma Kahini', in Jyaistha 1326 BS (1919), sent from Karachi where he was serving in the Bengal Regiment. Apart from publishing his short stories, essays, poems, songs and ghazals, the Saogat also serialised Nazrul Islam's novel mrtyuksudha. Apart from Roquiah Sakhawat Hossain, other major contributors included kazi abdul wadud, abul kalam shamsuddin, abul mansur ahmed, and abul fazal. rabindranath tagore, abanindranath tagore and satyendranath dutta also wrote in this journal
A pioneer in the field of Bengali Muslim journalism, the Saogat maintained its progressive outlook in Dhaka and continued to nurture young talent. [Mohammad Abdul Qayyum]