Sattar, Justice Abdus (1906-1985) President of Bangladesh. Born in 1906 at village Daraka in Birbhum district of West Bengal, Abdus Sattar obtained his MA in Political Science (1928) and B.L degree (1929) from Calcutta University, and joined the Calcutta judge court bar. At the same time he joined politics as an activist of Krishak Praja Party of ak fazlul huq. He joined Calcutta High Court bar in 1941. He was the councillor of Calcutta Corporation (1939), Assessor-member of Calcutta Improvement Tribunal (1940-42), and chief executive officer of Calcutta Corporation (1945).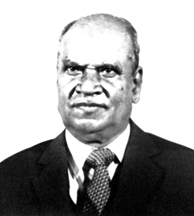 After the partition of India he moved to Dhaka (1950), and joined the Dhaka High Court bar. He joined the newly floated krishak sramik party (1953) headed by AK Fazlul Huq. Abdus Sattar was elected a member of the Pakistan Constituent Assembly in 1955. He was the Minister of Home and Education in the central cabinet of Pakistan headed by I. I. Chundrigarh (1957). He was the Justice of Dhaka High Court (1957-68), Justice of Pakistan Supreme Court (1968-69), and Chief Election Commissioner of Pakistan (1969-72).
Justice Abdus Sattar repatriated from Pakistan at the end of 1973 and joined in government service. He was chairman of the Board of Directors of Bangladesh Jiban Bima Corporation (1973-74), chairman of Journalist Wage Board (1974-75) and chairman of Bangladesh Institute of Law and International Affairs. In 1975, Abdus Sattar was appointed special adviser to the President and Chief Martial Law Administrator abusadat mohammad sayem, and was vested with the charge of the Ministry of Law and Parliamentary Affairs. In 1977, he was appointed Vice President of Bangladesh by President ziaur rahman.  
Under the patronage of President Ziaur Rahman, a political party called Jatiyatabadi Ganatantrik Dal was floated in 1978 of which Abdus Satter was the convenor. Within a few months he abolished the Jatiyatabadi Ganatantrik Dal only to include himself as vice president into a newly floated political party called bangladesh nationalist party (BNP) headed by President Ziaur Rahman.
After the assassination of Ziaur Rahman on 30 May 1981, Abdus Sattar took over as Acting President of the country. He was elected President of Bangladesh in 1981, and chairman of Bangladesh Nationalist Party in 1982. President Sattar was removed from power by a coup-d'etat led by the army chief Hussein Mohammad Ershad on 24 March 1982. He died in Dhaka on 5 October 1985. [Mofakkhar Hossain Khan]