Shahjadpur Mosque believed to be a 15th century architecture was built by makhdum shah (R). Shahjadpur mosque stands on the bank of the river Hurasagar at Dargapara, the extreme end of Shahjadpur proper, in the district of Sirajganj. It is not dated by any inscription. Architectural as well as decorative features of the mosque point to its 15th century origin.
A rectangular multi-domed mosque, it measures externally 19.13m in length and 12.60m in breadth; internally 15.77m in length, 9.60m in breadth. The thickness of the wall is 1.57m. Inside, there are two rows of stone pillars carrying pointed arches. The arches cross horizontally and laterally in such a way as to facilitate the springing of the domes of the mosque.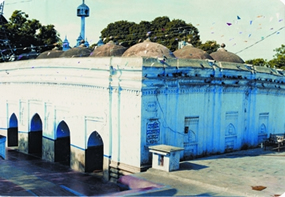 There are eight black basalt pillars, square at the base, then octagonal, and having a square capital on the top. The mosque is entered by five impressive arched entrances parallel to the mihrabs in the west wall. There are three blind niches on the south and north sides where the openings would have been. There are two subsidiary mihrabs on the left side of the central mihrab, and one on the right side. The place of another mihrab on the right side of the central mihrab is occupied by the mimbar of the mosque. The plan shows five bays and three aisles, allowing for fifteen uniform domes over the roof.
The cornice and roof of the mosque are slightly curvilinear as is the case in most early buildings of the Sultanate period. Due to restoration work in the Mughal period, the original terracotta decorations of Shahjadpur mosque have been mostly lost. Now only a small band of terracotta decorations are present on the four sides below the cornice, especially on the eastern facade. The chain and bell motif is curved on the shaft of the columns. The mosque has no corner tower. The arches are of the pointed two centered type. The shallow domes obtain their expected height with kalasa finial.
The facade of the mosque contains five arched entrances, all recessed within rectangular frames. On either side of the central doorway there are two rectangular panels. The multicusped decorative arches are supported on faceted pillars. The decoration on the facade consists of mouldings, two shallow niches, a sharp tooth like decoration, a band of terracotta decoration below the cornice, and two rossettes on the spandrel, one on each side of the central entrance. The same type of facade decoration is to be found on the facade of Baba Adam Shahid Mosque (1483 AD) at Rampal, Munshiganj. There is no corner tower in this mosque.
The most noteworthy feature of this mosque is its graceful seven-stepped canopied mimbar. The mosque shows all the stylistic and decorative elements characteristic of the early Sultanate architecture of Bengal. [Ayesha Begum]