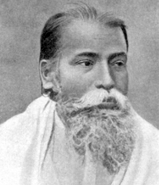 Shastri, Shibnath (1847-1919) litterateur, educationist, social reformer and preacher of the Brahma religion, was born at his maternal uncle's home in Changripota village of 24-Paragana, west bengal on 31 January 1847. His paternal home was at Mazilpur in the same district. His maternal uncle, Dwarakanath Vidyabhushan, was editor of somprakash.
Shibnath passed the Entrance examination (1866) from Sanskrit Collegiate School in Calcutta and FA (1868), BA (1871) and MA (1872) from Sanskrit College. He obtained the title of 'Shastri' from this college.
While Shibnath was a student he joined Keshab Sen's Indian Brahma Samaj in 1869. Through his work as a member of the Indian Reforms Association, he participated in movements to discourage drinking and for freedom of women and promotion of industrial, literary and technical education. To oppose drinking, he published a monthly magazine, Mad Na Garal, in 1870. Subsequently, he edited Samprakash (1873-74), the religious magazine, Samadarshi (1874), and the Tattvakaumudi, Indian Message, and Mukul (1895). Shibnath taught at the Adult Women School (1872) of Keshab Sen's Bharat Ashram, Bhawanipore South Subarbun School (1874) and Hare School (1876). At one stage he left a government job and established the Sadharan Brahma Samaj (1878). In movement for emancipation of women he assisted Keshab Chandra in working child marriage and promoting widow-marriage. Due to their efforts, the minimum age of marriage for girls was fixed at fourteen years in 1872.
In 1877 Shibnath organised the Brahma youths to form a revolutionary society named Ghananivista. He introduced a reform movement against idol worship and casteism and for establishing the principle of equal opportunity in education for both sexes. For the expansion of education he established City School and a democratic students association, Students Society (1879). For spreading women's education he established Nitividyalay (1884). On his own initiative he published the first Indian juvenile magazine, Sakha (1883), to promote the Brahma Samaj. In 1892 he also established Sadhanashram to carry out the goal of the Samaj.
Shibnath wrote books in various genres such as poetry, novel, essay, biography etc. He has also translated and edited many books as well as authored reference books for research include Ramtanu Lahiri O Tatkalin Babga Samaj (1904), Atmacharita (1918), History of Brahma Samaj etc. Other notable books by him are Nirbasiter Bilap (1868), Puspamala (1875), Meja Bau (1880), Himadri-Kusum (1887), Puspavjali (1888), Yugantar (1895), Nayantara (1899), Rammohan Roy, Dharmajiban (3 Vols, 1914-16), and Bidhabar Chhele (1916), etc. He died in Calcutta on 30 September 1919. [Mahbubul Haque]