Siddiqua, Mahmuda Khatun (1906-1977) writer, was born in pabna on 16 December 1906. Her father, Khan Bahadur Mohammad Sulaiman, was an Inspector of Schools, and her mother, Syeda Rahatunnesa Khatun, was a housewife, but fond of literature and music. In her early writings, she wrote her name Raquibunnesa Mahmuda Khatun. She also used the pen name 'Batashi'. Mahmuda Khatun was one of the pioneering women of the twentieth century, like roquiah sakhawat hossain, shamsunnahar mahmud and begum sufia kamal, who contributed towards the social awakening of Muslim women. Although her formal education was only up to the sixth standard, her creative bent of mind and commitment helped her make a place for herself in the society of scholars.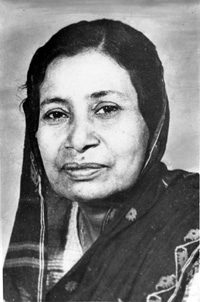 Siddiqua was very good at drawing and sketching as a child. Later on, she successfully obtained a diploma in Food Science, Culinary Science, Health and Hygiene. Her family environment contributed towards her literary endeavour. The popular novelist, mohammad najibar rahman, was her home tutor. She was influenced by contemporary literature and particularly by kaikobad's Ashrumala. She was also inspired by her travel experiences to Darjeeling and Jalpaiguri, where she stayed for some time, as well as by her visits to Delhi, Agra and Ajmer.
Mahmuda Khatun composed sonnets as well as poems in free verse. Her themes were nature, the environment, people and society. The wanton destruction caused by the two world wars made her stress the importance of peace in her poetry. Her three volumes of poetry are Pasharini (1931), Man O Mrttika (1960) and Aranyer Sur (1963). Apart from poems, she also wrote essays and short stories.
In 1967, the bangla academy awarded her the Sahitya Puraskar and in 1977 the government of Bangladesh awarded her the Ekushey Padak. She breathed her last on the 2 May 1977. [Mahmud Shah Qureshi]