South Asian Association for Regional Cooperation
South Asian Association for Regional Cooperation (SAARC) a regional alliance established in 1985, originally consisting of seven South Asian countries, namely, Bangladesh, Bhutan, India, Maldives, Nepal, Pakistan and Sri Lanka. Later, Afghanistan was inducted as a member of SAARC in 2007 in the 14th SAARC Summit. The region is full of diversities in terms of land area, geographical features, population, ethnicity, religion, natural resources, etc. SAARC consists of unequal partners, India being by far the largest and the strongest, and on the other hand, Bhutan, Maldives and Nepal are much smaller and politically weaker. The natural and human resources are skewedly distributed among these countries. The region has a total population of about 1.6 billion of which India has roughly about 75%, followed by Pakistan with 9.5%, Bangladesh 9%, and rest of the population live in remaining 5 countries. This is one of the poorest regions of the world.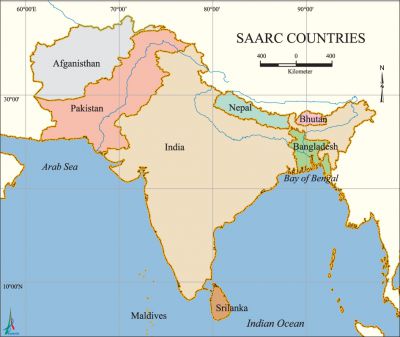 Formation of regional bloc is a useful step for accelerating economic and social development. Political cooperation and mutual trust are pre-requisites for meaningful economic cooperation. Historical animosity and lack of trust have slowed down the growth and development in this region.
The idea of forming a regional bloc consisting of the seven South Asian countries was initiated by the then President of Bangladesh in 1980. They eventually established South Asian Association for Regional Cooperation (SAARC) in 1985 at Dhaka Summit. The Dhaka Declaration was a tangible manifestation of a strong determination of the respective leaders to cooperate regionally, to work together to find solutions to their common problems in a spirit of friendship, trust and mutual understanding.
The SAARC Charter (Article III) provides that the Heads of the State / Government 'shall meet once a year or more often as and when considered necessary by the member States.'. However, for various reasons, yearly summit could not be held. Actually seventeen summits were held in 26 years during 1985-2011.
The 1985 Charter of Dhaka Declaration included eight broad objectives. These were: (1) to promote the welfare of the peoples of South Asia and improve their quality of life; (2) to accelerate economic growth, social progress and cultural development in the region, and to provide all individuals opportunity to live in dignity and to realize their full potentials; (3) to promote and strengthen collective self-reliance among the member countries; (4) to contribute to mutual trust, understanding and appreciation of one another's problems; (5) to promote active collaboration and mutual assistance in the economic, social, cultural, technical and scientific fields; (6) to strengthen cooperation with other developing countries; (7) to strengthen themselves to negotiate unitedly' in the international forums on matters of common interests; and (8) to cooperate with international and other regional organisations with similar aims and purposes.
Since then efforts were made to realize the SAARC objectives. The permanent secretariat of SAARC was established in Kathmandu. The Katmandu Declaration, the outcome of the 3rd Summit 1987, reemphasized the need for promoting peace, stability, amity, and progress in the region. The Islamabad Declaration (4th Summit 1988) reaffirmed the objectives of SAARC and emphasized the schemes designed for promoting greater people-to-people contact. These included schemes like establishment of the SAARC chairs, fellowship and scholarship scheme, the SAARC volunteer exchange programme and SAARC visa exemption scheme. The 5th Summit 1990 held at Male reviewed the progress. It contributed to regaining the momentum of SAARC activities. SAARC Regional Convention on Suppression of Terrorism was adopted in the 4th Summit and reemphasized in the following Summits. The SAARC leaders made commitment to combat terrorism, a common enemy, jointly. Several Declarations included their commitment to eliminate drug trafficking and human trafficking, particularly women and children.
During 1985-88, SAARC attempted to create vitality and efficacy of regional cooperation. Four regional centres were set up to supplement the work of the technical committees to share information and coordinate activities in priority areas. These centres are: SAARC Agricultural Information Centre; SAARC Regional Meteorological Centre; SAARC Documentation Centre; and SAARC Tuberculosis Centre.
The initial SAARC Charters did not have any clearly defined provision of economic and trade cooperation. Later, at the 6th Summit (1991), the member States declared their commitment to trade liberalization with a view to increasing intra-regional trade and investment which was until then insignificant. As a result, the South Asian Preferential Trading Arrangement (SAPTA) was established in 1993. This was the first major initiative for economic and trade cooperation taken by SAARC since its inception. The SAPTA aims at promoting and sustaining mutual economic cooperation through trade liberalization and sharing benefits equitably. Under SAPTA, product wise tariff concessions are negotiated amongst the member countries on a step-by-step basis. It was envisaged that both tariff and non-tariff barriers would be removed phase-wise selecting specific group of commodities. It was assumed that trade expansion through SAPTA would increase economic activities leading to reduction in poverty by generating new employment opportunities for the people in the region. By this time four Rounds of trade negotiations have been held covering over 5000 commodities. Each Round contributed to an incremental trend in the product coverage and deepening on tariff concessions over previous year.
The potential of intra-regional trade in SAARC has to be looked at in the context of historical relations between the member countries. Historically, the SAARC member countries mostly traded with non-members, that is, mostly with industrialized countries and NICs. The intra-regional trade is hardly 3% of the total trade of the region. One reason for this low intra-regional trade has been the application of tariff and non-tariff barriers in unregulated ways. There is no equitable market access for weaker member. Smaller countries, for example, Bangladesh can export to India only very insignificant percentage of the total amount India exports to Bangladesh. Even after 18 years SAPTA could not reduce the huge trade imbalance between India and Bangladesh. But the member countries continued to emphasize the need for moving up from the current low level of intra-regional trade and investment to higher level through trade liberalization and some institutional arrangements. Eventually, the SAARC launched the SAARC Free Trade Area (SAFTA) in 2004 at 12th Summit. The SAFTA agreement stipulated to bring down customs duty to zero on products traded within the region by the end of 2016. It requires the developing countries, namely, India, Pakistan and Sri Lanka to bring their duties down to 20% by 2009 and to zero per cent by 2012. SAFTA has granted some concessions to the least developed countries (LDCs), namely, Bangladesh, Bhutan, Maldives and Nepal (at that time Afghanistan was not a member of SAARC). The LDCs have been granted extra four years in reducing their duties to zero.
The Charter of SAARC does not prevent member countries to sign bilateral agreements or form sub-regional bloc within the SAARC region. Sri Lanka and India signed bilateral Free Trade Agreement to boost up trade and investment between them. Similarly, Bangladesh and India signed the ganges water treaty for sharing water that flows through the river Ganges. Again in 2010 and 2011 India and Bangladesh signed a series of bilateral agreements which allow India, among other things, transit facilities through Bangladesh to transfer goods from India to North Eastern States of India. Similarly, bilateral agreements have been signed between India and Nepal, India and Bhutan. In SAARC, bilateral agreements have produced better results than multilateral agreements.
The SARRC leaders recognized the importance of private sector to promote the SARRC spirit. Successive high-level meetings have recognized that academicians, professionals, trade bodies and private organisations can play important roles in establishing connectivity and in turn promoting SAARC ideals. The SAARC Chamber of Commerce and Industry was established with its secretariat in Karachi. This Chamber organises meetings of the business people in which possible expansion of intra-regional trade is explored at private levels. Similarly, the Association of Management Development Institutions in South Asia (AMDISA) was recognized as a private institution to promote the spirit of SAARC among the top business schools in the region through academic collaboration and people-to-people contacts. The SAARC has been able to generate a growing interest among the members of the civil societies. To make the SAARC play an effective role, they occasionally take initiative to establish people-to-people contacts through cultural exchange programmes, etc. Similarly, a number of SAARC Associations of various professionals have been established. The 9th Summit asked a 12-member Group of Eminent Persons to come up with its recommendations to make SAARC more effective. The 13th and 14th Summits have added a new dimension to regional cooperation by paving the way for establishing the South Asian University with its main campus in Delhi and separate campuses in each member country. This is a tangible achievement of SAARC.
In the 15th Summit held in August 2008, the leaders reaffirmed their resolve for collective regional efforts to accelerate economic growth, social progress, and cultural development which would promote the welfare of the people of South Asia, and improve their quality of life, thereby contributing to peace, stability, amity, and progress in the region.
Several encouraging events took place at the 16th or Silver Jubilee Summit of SAARC held in Bhutan in April 2010. The member states expressed their commitment to have a SAARC Charter of Democracy which they believe will strengthen democratic institutions and process, promote practice of democracy at all levels of government and society, and also promote the rule of law. In addition, the leaders at this Summit agreed to create a fund to meet the challenges of climate change and adopted the proposal of Bangladesh to establish the Himalayan Council. The hopes and aspirations of the SAARC leaders have further been articulated in the Addu Declaration released after the 17th SAARC Summit held in Maldives in November 2011. The leaders of the eight member SAARC countries reiterated their determination to increase regional trade; and to achieve this goal they directed the SAFTA Ministerial Council to intensify efforts to reduce the sensitive list of tradable commodities, and also to reduce non-tariff barriers to trade. The 17th Summit agreed to conclude the Regional Railway Agreement in line with the Summit themeBuilding Bridges' ' both in terms of physical connectivity and figurative political dialogue. The Indian Prime Minister pledged to promote fair trade in the region.
It is however clear that due to various reasons SAARC did not make substantial progress toward its goals. The general perception is that there had been more talks than actions. Until the 11th Summit, the SAARC mostly organised seminars, workshops and short training programs; facilitated cultural exchanges and sport events. Although some progress has been made through four rounds of SAPTA negotiations that inched to trade liberalisation, the SAARC is far from maturing as a regional economic grouping. Intra-regional trade has not moved up to the region's potential. The success of SAARC is much less than that of ASEAN or NAFTA.
Multilateral gain from SAARC was so far insignificant because India found higher benefits in bilateral agreements. There are many bilateral issues between member countries which discourage the multilateral efforts and initiatives for development, e.g India-Pakistan relations have always overshadowed the SAARC Summit agenda. The 'big brother' image of India has created a sense of insecurity among smaller member countries. They perceive the fear of Indian hegemony. This has slowed down the progress in achieving the SAARC goals. Perhaps to admit the lackluster achievement of SAARC, Indian Prime Minister called the 25-year (1985-2010) journey of SAARC 'a glass half empty' at the 16th Summit held in April 2010. However, by implication, the other half of the glass is full. Therefore, the SAARC leaders still hoped for brighter days in future that is reflected in the Addu Declaration in 2011.
It seems that achieving SAARC goals will take somewhat longer time. The progress will depend on how soon the adversarial relationship between India and Pakistan ends, on the ability of the member countries to foster confidence and trust for each other, and whether the decisions of the 17th Summit are implemented. [Hafiz GA Siddiqi]