Stadiums a planned play ground surrounded by gallery for the spectators so that they can watch any sport event held in the field from' all directions unhindered. The place is attached to a spacious ground or a partly stage or the surrounding are fully bounded from where the spectators can enjoy the programs. The word stadium has been derived from Greek word stadio, means the distance of 200 meter. The Olympic Festival began in Ancient Greece with only one event of race. The length of the race was equal to the length of the Olympiad Stadium. Since then, the playground is being termed as stadium.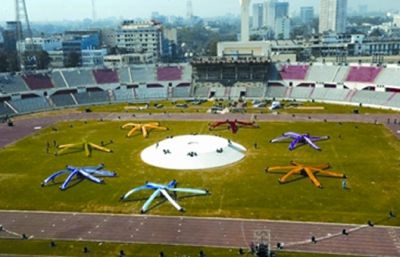 Keeping the pace with the peoples demand for holding games and sports in the continents, the member of the kingship or Heads of the Government of different nations took initiatives to build up modern stadiums. The first ever stadium was named Penathainac Stadium where the Olympic Games was held in 1870. Later Olympiad was held in this stadium in 1875, 1896, 1906 and 2004.
The necessity of stadium was felt when people got involved in Games and Sports in a massive way across the world. Many countries of the world took initiatives to build modern, huge and hi-tech architecturally superb stadiums. As a result, now a day, modern and giant stadiums are the places of interest in almost all developed countries. The covered dome type stadiums are also built side by side open air big stadiums. Those stadiums are built for both outdoor and indoor games respectively. In many cases, the world 'Stadium' is used related to the name of some games and sports too. Such as: Football Association, American Football, Baseball, League Football, Cricket, Rugby and some big field related games means the stadium. For example, the stadium used for American Basketball match is termed as the Indoor Stadium.
Types of Stadiums Stadiums differ from games to games. In modern time, there are many games; those are played both in the indoor and out door stadiums. But some games need maximum bigger arena and outdoor stadiums are the place for holding those games. As far as assessment of arranging the games is concerned, stadiums can be classified into two categories. Such as: Out door stadiums and Indoor stadiums.
Out door stadiums is generally used to play Football, Cricket, Athletics, Golf, Shooting, Archery, Horse-riding, Hockey, Cycling, Swimming, Rugby etc. Specially the opening and closing ceremonies of any big tournament or games like Olympic, World cup, Asian games, Euro cup, Cricket Tournament etc are held in the out door stadiums. In addition, some International and national sports, cultural programs and any big reception party for honorable people are held.
Indoor Stadiums is a place where there is no wide space like outdoor stadium to play. Indoor Stadiums are the places not only for holding indoor games but also for some outdoor popular games venue in this modern time. Normally, Basketball, Volleyball, Gymnastics, Weight Lifting, Wrestling, Boxing, Handball, Bowling, Fencing, Billiard and Snooker, Judo, Karate, Taekwondo, Wushu, Body-building, Kabadi, Carom etc are played in indoor stadiums. Recently, there are games like Football, Athletics, Hockey, Baseball; Swimming etc are also being played as indoor games. So, indoor stadium is the multidimensional venue for both indoor and outdoor games.
Recently, some games have been chosen for Beach Games. Those games are required to play on the beach. Just like open and smooth ground, to make the games and sports in colorful attire on the beach. Beach Sports Federations have been working across the world. By this time, a number of international Beach Tournaments have been arranged with some popular games. In 2009, Asian Beach Games was held at Bali, Indonesia. Football, Volleyball, Kabadi, Handball, Cricket etc., were among those were in the competition. Beach is the outdoor venue or stadium no doubt.
Many such games included in the world Olympics that are played or arranged in the big rivers, seasides, and big lakes. The names of those games are: Sailing, Boat-racing Yachting etc. Sailing has a number of different events where competitions take part in long distance and short distance events. Besides, one or more than one participants takes part in the competition. These events are definitely considered as the out door game. If we recognize that a game is normally played and arranged in a stadium either indoor or outdoor, it would be wise that sea, river and lakes are the stadium of those games.
Stadiums and Spectators Whatever measurement is there for a stadium to enjoy or watch the events of sports and games or other functions spectators are needed very much. Spectators are the life of stadiums and also the beauty of stadiums. In any sports grandeur spectators will be there. There are different spectators like Official Spectators, Supporters of the Team, Regular Spectators and Invited Guest spectators.
Official Spectator These types of spectators are generally official of the stadiums and respective federations or clubs. Government officials are also included in this category. They are to play the role everyday as spectators. Besides, reporters of print and electronics media can be considered as the official spectators. They regularly present in the stadiums to cover events there. In addition some referees and umpires, remain present there are called official judges. They are also considered as regular spectators.
Supporters of the Team When two teams play in the stadium, the supporters of both the teams rush to the stadium to support their team and to enjoy the match as well. This type of spectator enters into the stadium by collecting passes from their own club or by buying tickets from the counter. They always come to the stadium earlier and take the comfortable seat to their respective gallery. The stadium sometimes becomes full with this type of supporters of the team. Supporters come to the stadium putting on colorful matching dress like team jersey, coloring face with team-flag, and using headband team flag. This time in 2010 South Africa World Cup Football matches, supporters from participating countries were seen in the field wearing team jersey, coloring faces with country flags and headbands to support their teams.
Regular Spectators This type of spectator is considered as common spectator. There is no team for them rather watch games and sports are their pure addiction. They cannot stay without watching any matches. They come to the stadium to get themselves pure entertainment through games and sports and everyday come to the stadium. This type of spectators is very helpful for everything related to games.
Invited Guest Spectators Some VIP spectators are considered as the Invited Guest Spectator. They are not regular but they frequently come to the stadium to enjoy the special events. They come with their family with gorgeous and colorful dress to grace the occasions. During important matches of cricket, Football and opening and closing ceremonies of any big tournament or International games or tournaments they are invited to watch the events. Besides, Presidents, Prime Minister or any recognised VIP is invited as the Chief Guest to the event this type of spectators come to the stadium. [Shafiq Anwar]