Sumachar Durpun, The (1818-1852) The first weekly periodical in Bangla language published from the serampore mission (1800-1845), which was edited by john clark marshman (1794-1877). The news items which were published in this periodical related to: (a) appointment of judges, collectors and other government employees; (b) news from England and Europe; (c) new commercial news; (d) news on births, deaths and marriages; (e) ancient history of India, world of scholars and description of books; (f) details of laws and orders issued by the governor; (g) details of industries and factories from books written by Europeans and those imported from England.
First phase (1818-1841) The first issue of Sumachar Durpun was published on Saturday, 23 May 1818 (10 Jaishtha 1225 Bangla). The price of the periodical was Taka 1.50 per month. Between 4 July 1818 and 25 February 1826, the periodical carried the following slogan:
'Durpuney Mukh Saundarjyamir Karjyabichaksana;
Brittantaniha Janastu Sumacharashya Durpuney.'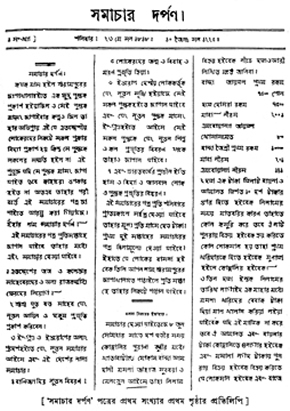 The task of editing the periodical was done by native scholars, on whom the paper was so dependent that if the pundits were absent, the publication of news items remained suspended. In the initial stage of the Sumachar Durpun, jaygopal tarkalankar (1775-1846) was the pundit in charge of editorial section. When he joined Kolkata Government Sanskrit College as professor of literature in January 1924, Pundit Tarinicharan edited the journal for four years. A Persian edition of the Sumachar Durpun was published from Serampore on 6 May 1826. The title was Akhbare Serampore, but it did not last for long.
After the establishment of the hindu college in Kolkata in 1817, there was an enthusiasm among many Bengalis to learn English. To serve all, the Serampore Mission made arrangements for publishing the periodical bilingually and thus it was turned into a bi-weekly paper from Wednesday, 11 January 1832. This status continued until 25 December 1841.
Second phase (1842-1843) Bhagabaticharan Chattopadhyay edited the paper for a month from 1842 to 1843, when it ceased to be published. Its publication was revived in 1851, but it was closed down in the following year.
Socially, economically, culturally and even politically, the Sumachar Durpun's features make important sources for the reconstruction of the history of the contemporary period.
Third phase (1851-1852) brajendranath bandyopadhyay (1891-1952) thus compiled these features from 1818 to 1840 and included them in his famous compilation entitled Sangbadpatre Sekaler Katha into two volumes (1st vol.1339, 2nd vol.1340). [Shamima Akhter]