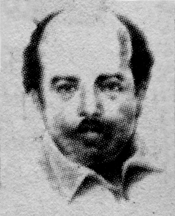 Taleb, Khondakar Abu (1921-1971) journalist martyr intellectual. He was born on 23 March 1921 at village Satani in Satkhira district. His father was Khondakar Abdur Rouf and mother Rokeya Khatoon. He passed Matriculation examination in 1944 from Satkhira PN School and IA in 1946 from Kolkata Ripon College (present Surendranath College). Abu Taleb obtained BCom degree in 1948 and LLb in 1956.
Khondakar Abu Taleb began his career as a journalist in Kolkata. After the partition of India in 1947 he came to Dhaka and worked as journalist in the daily papers like Azad, Insaf, Pakistan Observer, Sangbad, Ittefaq and Paigam. He was the general secretary of East Pakistan Journalist Union in 1961-62. He was the Chief reporter of Daily Ittefaq till 1965.
Simultaneously with reporting, Khondakar Abu Taleb used to write popular columns in the Ittefaq like Khoshnasib, De Garur Ga Dhuye, Bhote Ranga etc with pseudonym Lubdhak. Abter the Ittefaq was closed by the government in 1966, he joined the Daily Sandhya Awaz as Managing Director of which Abdul Gaffar Choudhry was the editor. In his serial titled Kagajer Manush published in the paper he highlighted various aspects of the profession of the journalists. The Bangla version of the original English text of the six-point programme was first published in the Sandhya Awaj, which was rendered into Bangla by him. He joined as law consultant in the BNR Advising Firm in 1969. Simultaneously he worked as Feature Editor in the Daily Paigam and as court reporter to a number of dailies.  
Khondakar Abu Taleb was a supporter of the non-cooperation movement and war of liberation in 1971. With the beginning of the operation searchlight, the Pak army personnels arrested him on 29 March with the help of the Biharis of Mirpur. Later his dead body was recovered from the scaffold of Mirpur.
The Postal Department of the Government of Bangladesh issued commemorative postal stamp in the name of Khondakar Abu Taleb on the Martyred Intellectual Day on 14 December 1993. [Arifa Siddiqua]