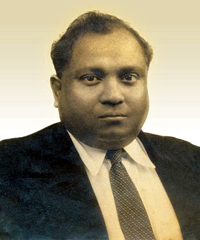 Talukdar, Abdul Hady (1905-1985) an educationist and academic administrator, was born on 26th October 1905, in a zamindar family of Patuakhali. Abdul Hady Talukdar passed his Matriculation Examination from Barisal Zila School in 1924, Intermediate of Arts from Brojo Mohan College in 1926, and BA Honours and MA in Philosophy from Dhaka University in 1929 and 1930 respectively.
On Lytton Scholarship, Hady Talukdar went to University College, London to study philosophy in 1932 and obtained another MA in Philosophy in 1935. Returning home in the same year, he joined Dhaka University as a Lecturer, Department of Philosophy. In 1939, he married Begum Nurunnahar Chowdhury of Ulania zamindar family. He served the university in various capacities for 33 years, including his appointment as Registrar in 1945, a position he held till his retirement in 1968.
Abdul Hady Talukdar was a member, Committee on Courses in Philosophy, the Academic Council and the Executive Council of Dhaka University from 1945 to 1954, and of the Syndicate from 1980 to 1984. In recognition of his contribution to Dhaka University's development and in the field of Education, the Pakistan Government awarded him the 'Sitara-i-Khidmat', which he subsequently renounced during the 1969 Movement.
Hady Talukdar served as a member of the committee on establishment of the Islamic University of Bangladesh and as President, Governing Body of the Islamic Academy of Cambridge, UK's Bangladesh Chapter. He remained actively associated with many socio-religious and educational bodies and was instrumental in setting up schools, colleges and madrasha till his death on 17th July 1985. [Muhammad A Ali]