Tanguar Haor a large haor lies within Sunamganj district extending over 10 mauzas of Dharmapasha and Tahirpur upazilas of the district. The mauzas covering the Tanguar haor are (1) Jagadishpur, (2) Bhabanipur, (3) Lamagaon, (4) Ramsinhapur, (5) Mahajampur, (6) Maindag, (7) Mayajuri, (8) Bhangachara Purba, (9) Noagaon, and (10) Tanguar Haor. The haor consists of 120 beels of various sizes. The area of Tanguar haor including 46 villages within the haor is about 100 sq km of which 2802.36 ha is wetland.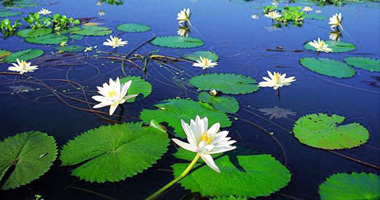 The haor is an ideal place for the migratory birds. Every winter about 200 types of migratory birds come to this haor and make their temporary habitat here. Once upon a time the zamindars of Sunamganj area used to make cruise into this haor with large Pansi boats for hunting birds.
The haor is an important source of fisheries. More than 140 species of fresh water fishes are available here. Among them the notables are Air, Gang Magur, Baim, Tara Baim, Gutum, Gulsha, Tengra, Titna, Garia, Beti, Kakia etc. In the 1999-2000 fiscal year, government earned Tk 70,73,184 as revenue only from fisheries of the haor.
Hijal (Barringtonia acutangula), Karach (Pongamia pinnata), Gulli, Balua, Ban Tulsi (Ocimum americanum), Nalkhagra (Phragmites karka) and some other important threatened species of freshwater wetland trees are available in this haor.
Most of the inhabitants of the Tanguar haor are landless or marginal farmer. As the haor allows single crop throughout a year, seasonal unemployment problem is very acute here. But the farmers harvest high yield because of the richness of the soil though the lands are single cropped.
The haor is cyclone prone as it located at the foothills of the Khasi-Jaintia Hills and a number of hailstorms also occur. Therefore at times crops get damaged. Except the levee or the kanda areas of the haor the other lands of the haor are used as pastureland. In the past the levees were deeply covered with trees. But afterwards the areas were deforested widely to meet the demand of additional lands for settlement and cultivation, which caused environmental degradation, and loss of biodiversity of the haor.
In the past few decades the total environmental settings of the Tanguar haor has degraded a lot. In consideration of its environmental importance and heritage, the government has decided to save the large haor by symbolizing it as an internationally critical environment area and listed the haor as a 'Ramsar area' under Ramsar Convention. In accordance with this, the government has taken massive plan to restore the natural environment and heritage of the Tanguar haor by conserving its water, improving agriculture and fish production, and making the haor secured zone for birds and animals. The government has also decided not to allow any developmental or commercial activity within the haor area that is harmful for the sensitive environment of the haor. Besides these, the government has banned on digging any well for gas or oil within the 10 km area of the haor. The natural beauty of the Tanguar haor attracts the tourists and the haor can be turned as an important tourist place. [Nixon Talukdar]