Tannery transforms raw hides and skins into leather for manufacturing articles like shoes, bags, suitcases, belt, wallet, jacket and many other products. In the past, leather processing was done manually using certain indigenous methods.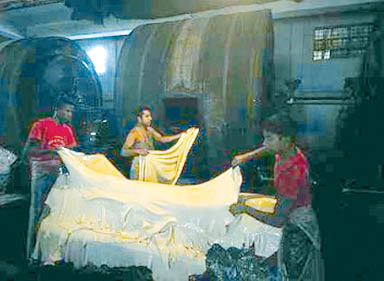 The first tannery in Bangladesh territory was set up at Narayanganj by rp saha sometime in the 1940s. It was later shifted to Hazaribag area of Dhaka, which eventually turned into a place packed with various tanneries. Before the partition of bengal (1947), almost all the raw hides and skins available in East Bengal were exported to west Bengal, particularly to Calcutta and processed there. Development of tannery industry in East Pakistan started after the Partition with an influx of tanners displaced from India and subsequently, with the establishment of subsidiaries of some companies of West Pakistan. The tanning industry in East Pakistan and export of leather from the province were mainly in the hands of the non-Bengali people. A few tanning units, however, belonged to Bengali entrepreneurs but they were of cottage type and they used to process leather mainly for the domestic markets. Most non-Bengali tanners processed wet-blue and sent the product to West Pakistan where it was further processed and finished for producing different consumer goods. Till 1960, tanneries of East Pakistan used to process raw hides and skins applying salt and then drying them in the sun and the material thus developed was known as shaltu.
During the war of liberation in 1971 the non-Bengali tanners of Bangladesh left the country abandoning about 30 tannery units owned by them. After the war, the new government of Bangladesh vested the management of these units on a newly formed Tannery Corporation, which was expected to convert them into finished leather manufacture units. Unfortunately, the corporation did not serve the purpose because of lack of experience and other reasons including corrupt practices.
Later, the government relinquished the Tannery Corporation and handed over the management of most of these tanneries to Bangladesh Chemical Industries Corporation (BCIC). Three of them were given to bangladesh freedom fighters welfare trust. Both the authorities had miserably failed to manage the tanneries. In 1982, the government transferred them to private entrepreneurs in pursuance of its general policy of disinvestment, which had allowed some enterprising Bengalis with little or no experience in the industry to start wet-blue production.
At present (2010), there are about 206 tannery units in Bangladesh and they use locally available raw hides and skins. Of them 114 are large and medium units (by local standards) and are registered with the Directorate of Industries. Others are mostly of small and cottage type and are not on the register of the government. Considering the potentially of the tannery industry, by the time 35 tanneries have set-up modern machineries. These tanneries are capable of converting 60% of our raw-leather into finished form of international standard. About 190 tannery units are located at Hazaribag of Dhaka in only 60 acres of land popularly known as tannery estate. According to the records of the Bangladesh Tanners Association, about 60000 workers are employed in the tanning industry. Besides, there are about 100 qualified technologists including foreign nationals who are working in different tanneries. Total capital invested in the tannery industry so far is estimated at Tk.2.5 billion, of which government/bank finance is about Tk 1.2 billion. About 1,500 persons are involved in the process of collecting raw hides and skins and making them available at tannery units. About 100 organisations import chemicals for use in tannery industry.
Bangladesh produces approximately 200-220 million sq feet of raw hiders and skins, about 85% of which is exported in crust and finished form. The rest is used for producing leather goods to cater to the domestic market. Leather is a traditional export item of Bangladesh. But export earnings from this sector could not indicate any predictable increase in the past. Since the production and supply of leather depend on the availability of livestock and demand of the meat, the total supply of leather cannot be increased in the short run, Therefore, the only way of increasing earnings from this sector is the production and export of higher value leather products for which international demand is growing. International market for leather is highly fluctuating, hence the earnings from its export. Until 2001, annual export receipts from this sector remained below taka one billion. But by 2008-09, the annual income from leather and leather goods export increased to US$ 381.14 million. Some reputed tanneries of Bangladesh are Dhaka Leather, Apex Tannery, Lexco, Karim Lather, Samata Tannery, Bay Tannery, Lexco, Reliance, Kalam Brothers, AL-Madina, Millat, Progoti, Anwar, Amin, Crescent Kid Leather etc.
Tannery industrial estate has been developed in Savar with a view to providing all sorts of infrastructural facilities and to make it environment friendly. As a result, tanneries located at populated area of Hazaribag will be transferred to its new industrial site. [Belayet Hossain]