Tarkabagish, Maulana Abdur Rashid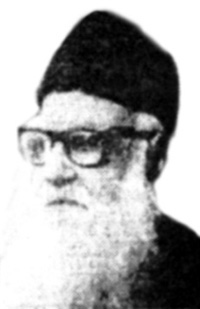 Tarkabagish, Maulana Abdur Rashid (1900-1986) politician, parliamentarian. He was born in 1900 at village Tarutia in Sirajganj district. Abdur Rashid took active part in the Khilafat and non-cooperation movement (1920-22) when he was a student of entrance class in the local Diamond Jubilee High School. He organised public meetings in the area to create public opinion in favour of the movement and established Congress office at Salanga-hat. A peasant uprising was initiated by him in 1922, and he was arrested and convicted for six months. Abdur Rashid subsequently received his higher education from the Deoband Madrasa of North India.
His extraordinary performance in a debating competition held in Ershad Islamia College in Lahore earned him the credit of the best orator, and since then he was reputed as tarkabagish (master debater).
Maulana Tarkabagish joined muslim league in 1936, and was elected a member of the Bengal Legislative Assembly in 1937 and again in 1946. While a member of the East Bengal Provincial Assembly he walked out from the assembly session protesting against the police firing on the procession of the students and public and killing of students on 21 February 1952, and subsequently resigned from the Muslim League Parliamentary party.
Abdur Rashid Tarkabagish was arrested on 23 February 1953 to be released on 1 June. Later he joined the Awami Muslim League. He was elected a member of the Provincial Assembly in 1954 as a candidate of the united front, and a member of the constituent assembly of pakistan in 1956.
At the sessions of the Constituent Assembly held at Murry and at Lahore (1956) he delivered his speeches in Bangla in showing respect to his mother tongue. He was the president of the East Pakistan Awami League between 1957 and 1966. The Awami League was then divided into two factions, pro-Six point and pro-PDM (Pakistan Democratic Movement). He was elected president of the ad hoc committee of East Pakistan branch of pro-PDM Awami League in 1967. After the Mass Upsurge of 1969 he joined the pro-Six point group. He was elected a member of the Pakistan National Assembly in 1970 from Pabna as a nominee of the Awami League.
Maulana Tarkabagish presided over the first session of the Jatiya Sangsad of independent Bangladesh in 1972. He was elected member of the Jatiya Sangsad in 1973 as a nominee of the Awami League. In 1976, Maulana Abdur Rashid himself floated a political party named Gana Azadi League and was elected its president. A 15-party alliance was formed at a combined meeting of 15 political parties presided over by the Maulana on 30 January 1983. He played an important role as one of the leaders of the alliance in the movement against military rule of Hussein Mohammad Ershad. He was all along uncompromising towards fundamentalism and sectarianism. He died in Dhaka on 20 August 1986. Maulana Abdur Rashid Tarkabagish was honoured with the Independence Day Award (posthumously) by the Government of Bangladesh in 2000 AD. [Rozina Kader]