Tavernier, JB (1605-1689) French traveler of 17th century. He visited various parts of India including Bengal. Born in Paris in 1605, Tavernier got the inspiration for acquiring knowledge in geography and traveling abroad from his father Gabriel, a merchant and a geographer.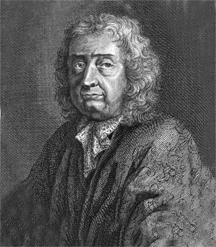 Tavernier's travel accounts, Travels in India was published from London in 1889. His account about Bengal, particularly his narratives about Dhaka, the then capital city of Bengal, is illuminating. In fact he visited dhaka twice, first in 1640 and then again in January 1666. Unfortunately he left no accounts of his first visit to Dhaka, but his description of the city during his second visit is very comprehensive. He described Dhaka as a great city extending for more than two leagues or about 9.5 km. He commented that everyone desired to have a house by the riverside and hence it extended only along the riverbank. The houses, generally constructed of mud and bamboo, were built in separate blocks. Majority of the inhabitants living along the riverbank were carpenters and they made battleships and little country boats. The subahdar lived in a tent within a high-walled fortification.
Tavernier noted that the dutch and the english residing in the city had constructed well-built factories and lofty churches. Though the English and the Dutch had large trade in the country and the Dutch had most influence upon the subahdar, it was the portuguese who managed to get advantages from the court. Tavernier also met Mr Pratt, the chief of the English Factory and saw the brick-built bridges over the rivers Pagla and Kadamtali.
On 14 January 1666, Tavernier paid a visit to shaista khan, the subahdar of Bengal, on 16 January transacted a business of selling precious stones and jewellery in the royal household and on 29 January 1666 he left for kasimbazar after staying for about 16 days in Dhaka. 1684. He traveled to Berlin at the invitation of the Great Elector. The closing years of Tavernier's life are obscure; the time was not favorable for a Protestant, and it has even been supposed that he passed some time in the Bastille. He left Paris for Switzerland in 1687, that in 1689 he passed through Copenhagen on his way to Persia through Russia, and that in July, the same year he died at Moscow. [Sharif uddin Ahmed]