Terokhada Upazila (khulna district) area 189.48 sq km, located in between 22°50' and 22°59' north latitudes and in between 89°34' and 89°45' east longitudes. It is bounded by kalia upazila on the north, rupsa upazila on the south, mollahat upazila on the east, dighalia upazila on the west.
Population Total 110628; male 57136, female 53492; Muslim 86895, Hindu 23710, Buddhist 9 and others 14.
Water bodies Main river: Atharobanki.
Administration Terokhada Thana was formed in 1918 and it was turned into an upazila in 1983.
Upazila
Municipality
Union
Mouza
Village
Population
Density (per sq km)
Literacy rate (%)
Urban
Rural
Urban
Rural

-

6

31

96

10689

99939

584

45.73

44.99
Upazila Town

Area (sq km)

Mouza

Population

Density (per sq km)

Literacy rate (%)

10.17

2

10689

1052

45.73
Union
Name of union and GO code
Area (acre)
Population
Literacy rate (%)
Male
Female

Ajugara 13

3121

7138

6631

45.36

Terokhada 81

81

5536

9770

9160

Barasat 27

10434

11147

10686

45.43

Madhupur 40

12240

9715

8677

38.67

Sachiadah 54

9053

8990

8217

51.41

Sagladah 67

6051

10376

10121

45.83
Source Bangladesh Population Census 2001,Bangladesh Bureau of Statistics.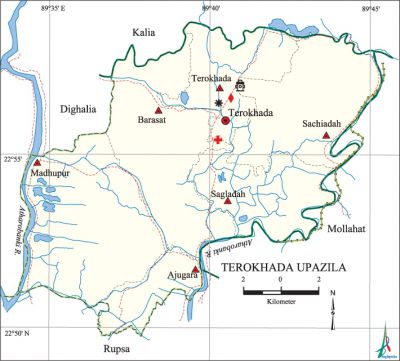 History of the War of Liberation Terokhada was under Sector 9 during the war of liberation in 1971. The Pak army conducted heavy torture and plundering at villages Sahapara and Sachiadah; they also set many houses of these villages on fire. The freedom fighters of this upazila conducted operations in the entire north Khulna region from their Patla camp; it is interesting to note that during the nine-month War of Liberation the Pak army could never takecontrol of the Patla camp which was the main base of the freedom fighters.
Marks of the War of Liberation Memorial monument 1; Swadhinata Udyan (Liberation park) 1.
Religious institutions Mosque 314, temple 57. Noted religious institutions: Sakatibari Mosque, Poddarbari Mosque, Pantita Barabari Mosque, Nachunia Mosque, Mosque at Atlia, Kalibari at Atlia, Burimar Gachtala (sacred place).
Literacy rate and educational institutions Average literacy 45.06%; male 48.12%, female 41.78%. Educational institutions: college 4, secondary school 16, primary school 98, madrasa 20. Noted educational institutions: North Khulna Degree College (1966), Chitra Mohila College (2002), Satadal College (2002), Ikhri Katenga Fazlul Haque Secondary School (1932), Sahidpur Khan A Sabur High School (1949), Pancha Palli Atiar Rahman High School (1995), Induhati Nepal Chandra Secondary School (1963), Atlia Siddiqia Alim Madrasa (1953).
Cultural organisations Library 1, theatre group 2.
Main sources of income Agriculture 68.50%, non-agricultural labourer 2.02%, industry 1.95%, commerce 10.61%, transport and communication 2.61%, service 8.31%, construction 0.72%, religious service 0.16%, rent and remittance 0.31% and others 4.81%.
Ownership of agricultural land Landowner 65.25%, landless 34.79%; agricultural landowner: urban 57.06% and rural 66.09%.
Main crops Paddy, coconut, sugarcane.
Extinct or nearly extinct crops Jute.
Main fruits Mango, jackfruit, plum, coconut, star apple.
Fisheries, dairies and poultries Fishery 9225 including shrimp gher (enclosure for shrimp cultivation), dairy 107, poultry 42.
Communication facilities Pucca road 45 km, mud road 179 km; waterway 17.27 nautical miles.
Extinct or nearly extinct traditional transport Palanquin,' bullock cart.
Noted manufactories Rice mill, flour mill, oil mill, brick-field, ice factory, welding factory.
Cottage industries Goldsmith, blacksmith, bamboo work, wood work, cane work.
Hats, bazars and fairs Hats and bazars are 16, fairs 3, most noted of which are Katengar Hat, Terokhada Hat, Joy Sena Hat, Patla Hat, Shekharpur Hat, Sagladah Hat, Terokhada Mela and Patla Mela.
Main exports Galda shrimp, Paddy, coconut, plum.
Access to electricity All the unions of the upazila are under rural electrification net-work. However 11.33% of the dwelling households have access to electricity.
Sources of drinking water Tube-well 94.72%, pond 2.92%, tap 0.34% and others 2.02%. The presence of arsenic has been detected in shallow tube-well water of the upazila but it is of tolerable limit.
Sanitation 38.12% (urban 36.13% and rural 56.58%) of dwelling households of the upazila use sanitary latrines and 56.87% (urban 56.64% and rural 40.43%) of dwelling households use non-sanitary latrines; 5.01% of households do not have latrine facilities.
Health centres Hospital 1, community clinic 12.
NGO activities Operationally important NGOs are brac, asa, CARE, proshika. [Ekramul Kabir]
References Bangladesh Population Census 2001, Bangladesh Bureau of Statistics; Cultural survey report of Terokhada Upazila 2007.