Vishvakarma Puja is performed by Hindus in honour of Vishvakarma, a folk deity. Vishvakarma is depicted as Narayana or vishnu mounted on an elephant. In appearance he resembles Kartika. The vedas describe him as the creator of the world.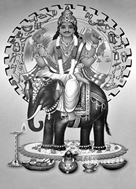 Vishvakarma is the celestial artisan and the god of artisans and craftspeople. He is believed to be the inventor of ornaments and the maker of the weapons of the gods, as well as their aerial transports and palaces. Traditionally, he is believed to be the builder of the most beautiful city of Lanka described in the ramayana. He is also believed to have built the statue of jagannath at Srikshetra.
Vishvakarma is worshipped by Hindus with fanfare at all mills and factories on the last day of Bhadra. In particular, he is specially worshipped by craftsmen such as jewellers, blacksmiths, architects and potters.
Special feasts are arranged on the occasion. Vishvakarma puja is also an occasion for kite flying. [Paresh Chandra Mandal]