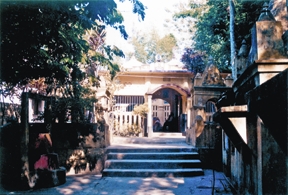 Adinath Temple is located on top of the Mainak hill, about 85.3m above the sea level, in village Thakurtala under Gorakhghata Union in maheshkhali upazila of Cox's Bazar district. One can reach Gorakhghata by boat from Kastarighat of Cox's Bazar.
There is no authentic proof to connect Gorakhghata or the temple with Goraksanatha, the guru of the Natha community. It may be that one of the disciples of Goraksanatha may have named the ghat at Maheshkhali after the guru. Natha philosophy evolved out of the long association of the Saivites with the Buddhists and in the 10th-11th centuries emerged Tantric Shastras. Adinatha (variants Matsyendranatha or Minanatha) emerged through this process of evolution. Nathism represents the folk religion of Bengal based on mantra-tantra and asceticism.
The Adinath temple clearly shows in its construction the association of the Natha community. The temple is 6 m high and measures 10.5 m × 9.75 m; the inner walls are 1.05 m thick, while outer walls are 0.60 m thick. There are three parts; the northern part, which is older, contains two square rooms (3.35 m each side) for worship - the eastern one has the image of Adinatha Banalinga Shiva and the western one has the image of eight-armed Durga (Idol). The entrance is bow-shaped, while the entrances on the northern and southern sides have been closed with brickwork. There are two windows, one on the east and the other on the west side. The two rooms are covered with domes on pendentives. The finials on top are decorated with lotus, kalasa and chakra. The tops of the octagonal pillars have kalasa and twined scrolls. The top of the arch on the western side has floral and the eastern one has trixul decoration. There are two niches on the southern wall. The second and third parts of the temple are recent additions.
From the very early days of the temple an annual fair is held here on the Shiva Chaturdashi or the 14th day of the darker half of the month of Falguna. The fair lasts for eight to ten days and many pilgrims. [Muhammad Abdul Baten]