Ahmad, Khondakar Mostaq (1919-1996) politician, President of Bangladesh. Born in 1919 at village Dashpara in Daudkandi upazila of Comilla district, Khondakar Mostaq Ahmad obtained his BL degree from Dhaka University and joined politics in 1942. He took active part in the Pakistan Movement. He was one of the founder joint secretaries of the East Bengal Awami Muslim League.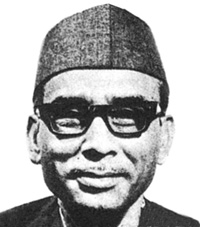 Khondakar Mostaq Ahmad was elected a member of the East Bengal legislative Assembly in 1954 as a candidate of the United Front. After the dissolution of the United Front cabinet by promulgation of Article 92-A, Mostaq Ahmad was put behind the bars in 1954. He was released in 1955 and was elected chief whip of the United Front parliamentary party. But with the promulgation of martial law in the country in 1958 he was confined once again. Mostaq Ahmad was put behind the bars again after the launching of the six-point programme in 1966. Eight political parties of the country formed the anti-Ayub Committee of Ganatantrik Sangram Parisad (Democratic Resistance Front) in early 1969 and Mostaq Ahmad was elected convenor of its East Pakistan wing.  
He was a member of the awami league delegation to the Round Table Conference (1969) convened by mohammad ayub khan at Rawalpindi. He was elected a member of the Pakistan National Assembly in 1970.
During the war of liberation Mostaq Ahmad was a minister in the mujibnagar government and was in charge of foreign, law and parliamentary affairs. After liberation he became a member of the cabinet of Bangabandhu sheikh mujibur rahman (1972-1975) and was given the charge of the ministries of power, irrigation and flood control. In 1975, he was given the charge of the ministry of commerce. He was a member of the executive committee of bangladesh krishak sramik awami league formed in 1975.
After the assassination of Sheikh Mujibur Rahman on 15 August 1975 by a group of army personnel, Mostaq Ahmad declared himself the President of Bangladesh, a position, which he held for only 83 days. But soon after he usurped the presidency, he promulgated the Indemnity Ordinance. He replaced the 'Jai Bangla' slogan with the 'Bangladesh Zindabad' and changed the name 'Bangladesh Betar' to 'Radio Bangladesh'. During his regime, four national leaders, syed nazrul islam, tajuddin ahmad, Captain m mansur ali and ahm qamaruzzaman, were brutally killed while imprisoned in the Dhaka Central Jail (3 November 1975). Mostaq Ahmad was ousted from presidency on 5 November 1975.
Mostaq Ahmad floated a new political party named Democratic League in 1976. In the same year he was arrested for his alleged involvement in a conspiracy for the overthrow of the military government. He was convicted in two corruption cases filed by the military government, and was sentenced to imprisonment for five years. On his release from jail he became active in politics again. Mostaq Ahmad died in Dhaka on 5 March 1996. [Saleh Athar Khan]