Ahmad, Tofael (1919-2002) educationist, folklorist and collector of folk artifacts. Born on 22 February 1919 AD (10 Falgun 1326 BS) in Baralia village of lakshmipur district, Tofael Ahmad graduated from Islamia College, Calcutta. He completed his MA in Economics from calcutta university in 1944.While a student he was the general secretary of Bekar hostel and vice president of Karmaikal hostel.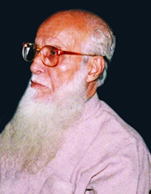 Tofael Ahmad started his career as a teacher at Calcutta Islamia College. For some time he taught at Chakhar College, Barisal. From 1946 to 1966, he taught at sadat college, Karatia, of which he was the principal for seventeen years. He retired in 1980 as the director of Bangladesh Council (successor to Bureau of National Reconstruction).
From 1984 to 1987, Tofael Ahmad was involved with the Karika project on Folk Crafts Survey and Design Documentation. In this connection, he visited about 1500 villages of Bangladesh. During this survey he discovered several rare folk artifacts, including a gazir pat at munshiganj. Earlier it had been believed that the only extant piece of this folk art genre was a gazir pat preserved in the Asutosh Museum, Calcutta.
Ahmad made significant contributions to folk literature and folk collections. Apart from his work with the Karika project, Ahmad also collected many specimens of folk artifacts that are now extinct. His personal collection, particularly rich in ritual and decorative arts, included nearly one thousand objects from various places of rural Bangladesh. He also collected folk artifacts from countries such as India, Sri Lanka, Egypt, Abu Dhabi, UK and USA. Ahmad established a private folk museum with his collections at his own residence. Artist Zainul Abedin entitled Tofaels personal collection as a 'mini museum'. In 1999 he made an endowment and transferred his museum to the management of the Trustee Board of the endowment.
Tofael Ahmad wrote several books on folk arts and crafts, including Amader Prachin Xilpa (Our ancient crafts and industries, 1964), Lokaxilpa (Folk arts and crafts, 1985), Yuge Yuge Bangladesh (Bangladesh through the ages, 1992), Lokaxilper Bhubane (In the realm of folk art, 1993), Dhakar Banijyik Karukala (The commercial crafts of Dhaka, 1993), Loka Aitihyer Dax Diganta (Ten dimensions of folk tradition, 1999).
In 1998, BRAC awarded Tofael Ahmad 'Shilu Abed Karushilpa' Prize and Bangladesh national museum honored him in 2000 for his contribution to folk art and crafts. The bangla academy made him an honorary fellow in 2001. Tofael Ahmad died on 28 March 2002. [Shahida Akhter]