Ahmed, Abbasuddin (1901-1959) folk singer, was born at Balarampur in Tufanganj subdivision in the district of Cooch Bihar on 27 October 1901. His father, Zafar Ali Ahmed, was a lawyer at the Tufanganj Sub-divisional Court.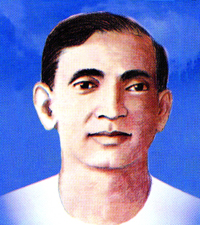 Abbasuddin's interest in music grew through attendance at cultural functions at school and college. He was largely self-taught, except for a brief period when he learnt music from Ustad jamiruddin khan in Kolkata. He sang different types of songs such as folk songs, modern songs, patriotic songs, as well as Islamic songs. He also sang Urdu songs. But Abbasuddin became renowned mainly as a singer of folk songs.
Initially, he became famous for bhawaiya, Ksirol, Chatka in rangpur and Cooch Bihar. He became increasingly popular with his rendition of jari, sari, bhatiyali, murshidi, Bichchhedi (songs of estrangement), Marsiya, Dehatattwa and pala gan, specially when these were made into gramophone records. No other singer could surpass his emotional, full-throated rendition of folk songs. He also sang songs on Islamic themes composed by kazi nazrul islam, jasimuddin and golam mostafa.    
In Kolkata Abbasuddin made a number of gramophone records with His Master's Voice as well as with Megaphone, Twin and Regal. By singing at various functions in villages, towns and cities as well as by recording his songs, Abbasuddin made music acceptable and popular in conservative Bengali Muslim society.
Abbasuddin stayed in Kolkata from 1931 to 1947. Initially, he worked temporarily as a clerk in the DPI office and then in the Department of Irrigation in a permanent post. When ak fazlul huq was Chief Minister, Abbasuddin was given a government job as a recording expert. In the 1940s, Abbasuddin's songs played a significant role in raising the Muslim public opinion in favour of the pakistan movement. In 1947, after partition, he joined the Department of Information and Broadcasting as an additional song organiser. As a representative of Pakistan, he participated at the South East Asia Conference in Manila in 1955, at the International Folk Music Conference in Germany in 1956 and at the Bengali Cultural Conference in Rangoon in 1957.
Abbasuddin wrote an account of his life as a singer in Amar xilpi Jibaner Katha (1960). For his invaluable contribution to music he was posthumously honoured with the Pride of Performance Award in 1960, Shilpakala Academy Award in 1979 (posthumously) and Svadhinata Dibas Puraskar in 1981 (posthumously). Abbasuddin Ahmed died on 30 December 1959. His daughter, Ferdousi Rahman, his youngest son, Mustafa Zaman Abbasi, and his granddaughter, Nashid Kamal, are also renowned singers. [Wakil Ahmed]