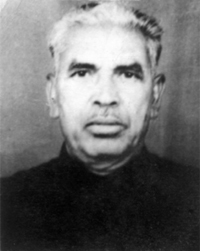 Ahmed, Adeluddin (1913-1981) lawyer, politician. Adeluddin Ahmed was born on 1 March 1913 at village Kalinagar in Kalkini upazila of Madaripur district. He got his BA degree from Faridpur Rajendra College in 1935. He obtained BL degree from Ripon Law College, Kolkata in 1942 and joined Faridpur Bar the following year. It was the period when the Pakistan movement was getting momentum, and Adeluddin got himself involved with the activities of the Muslim League in Faridpur.
Adeluddin Ahmed joined the Muslim League in 1943 and was elected as assistant secretary of Faridpur district unit of the Party. He was also a member of the Provincial Muslim League Council. In 1949, Adeluddin Ahmed started working with MAULANA abdul hamid khan bhasani and was one of the founding members of the Awami Muslim League. He was a member of the executive committee of Awami Muslim League and secretary of the Faridpur district unit of the Party. He was elected a member of the Faridpur Zilla Board in 1953. Adeluddin was elected a member of the East Bengal Legislative Assembly from Madaripur constituency in 1954 as a candidate of the united front. In the same year he was elected a member of the Constituent Assembly of Pakistan.  
In 1957, Adeluddin Ahmed was nominated as member of the Senate of Rajshahi University established under the Rajshahi University Act of 1953. He helped in framing and implementing the plan of the University, and also took initiative in ensuring governmental patronisation for the building of its permanent campus.
Adeluddin Ahmed made significant contribution towards the framing of 1956-Constitution of Pakistan as a member of the Constituent Assembly. As a member of Pakistan's first parliamentary delegation, he visited the Soviet Union and a number of European countries.
Adeluddin Ahmed is particularly known for his amendment proposal to the Language Bill for making both Bangla and Urdu as state languages of Pakistan. The amendment proposal was unanimously adopted by the Constituent Assembly on 16 February 1956.
Adeluddin Ahmed was appointed Public Prosecutor in Faridpur court in 1957. In October 1958, he was included in the cabinet of the coalition government of Awami League and the Republican Party headed by Prime Minister Firoz Khan Noon. He was elected a member of the Pakistan National Assembly in 1970 from Madaripur-Kalkini constituency as a candidate of the Awami League.
Adeluddin Ahmed had been the president of Faridpur district Awami League for long years. In December 1974 he was appointed a member of the first Public Service Commission, and after retirement from the Commission in 1975 he returned to his legal profession. He was the president of Faridpur District Bar and promoter of a number of educational, social and charitable organisations.
Adeluddin Ahmed died on 26 June 1981. [Ahmed Kamal]