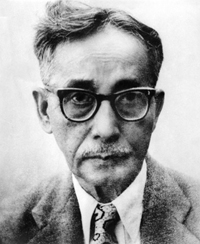 Ahmed, Comrade Muzaffar (1889-1973) revolutionary and pioneer of the communist movement in India. Affectionately called Kakababu (uncle) by party comrades and sympathisers. His way of life and functioning was a role model for other communist followers. Son of Mansur Ali, a lawyer, Muzaffar Ahmed was born on 5 August 1889 at Sandwip in Noakhali District. He had his early schooling in Kargill High School, Sandwip. Later, he moved to a Madrasa, and still later to Noakhali Zilla School. While Muzaffar Ahmed was a student of Intermediate in Arts, first at Hughli College and then at Bangabasi College, he took a job at the printing press of Writers' Building. He then worked as a translator in the Home Department. Concurrently, he was an Assistant Secretary of the Bangiya Mussalman Sahitya Samiti. From 1916 he began to take part in political meetings and processions. In 1920, he decided to take an active part in politics.
Post-war India, was ablaze because of the Non-cooperation and Khilafat movements.In 1920 Muzaffar was nominated a member to the Bengal Provincial Khilafat Committee. He, however, did not accept the office though he used to attend all meetings. On 12 July 1920, Muzaffar Ahmed became joint Editor of nabajug, the other Editor being kazi nazrul islam. Ahmed used to contribute articles on the problems of the working people to this daily. He left Nabayug in January 1921.
The Communist party of India was set up at Taskhent on 17 October 1920. Comrade Muzaffar established contact with the International Communist Movement and began collecting papers and journals in large numbers from abroad. The Vanguard of the Indian Independence, the first publication of the party, came out on 15 May 1922. Muzaffar met Comrade Abdul Halim towards the end of 1922 and jointly took up the task of building the Communist Party of India.
The Communist Party of India had by now started functioning fully as a branch of the Communist International. Muzaffar Ahmed began taking part in working class movements and became involved with the Trade Union Congress. On 17 May 1923 he was arrested under Regulation, No 3 of 1818, and was sent to jail. Subsequently, charged under the Kanpur Bolshevik Conspiracy Case, he was sentenced to four years' rigorous imprisonment in February 1924. He was, however, released in 1925 as he contracted tuberculosis. On 20 March 1929, Muzaffar Ahmed was arrested again in Calcutta as an accused in the Meerut Conspiracy Case. He had to spend a total of twenty years in jails. While in imprisonment, he twice undertook long hunger strikes to demand for political prisoners.
Muzaffar Ahmed specially taught other leaders the rules and methods of working underground. On approximately five occasions, in a span of eight years, he went underground to work for the party organisation and movements. In the All India Delegates' Conference, held in Calcutta in December 1933, he was elected to the Central Committee of the party while still in jail. Excepting the second party congress in 1948 he was elected to the central committee in every party congress.
Between 1938-40, the Communist Party had spread to all 28 districts of undivided Bengal and party members began to be enrolled in thousands. Trade Unions and Kisan Sabhas developed in large numbers. The task of re-organising the party continued throughout the fifties. The party began to emerge as a national party both inside and outside the legislature. Comrade Muzaffar Ahmed was at the centre of all these activities. He was the Secretary of the Bengal Provincial Committee of the party from 1940 to 1943. Throughout his life Comrade Muzaffar Ahmed remained in the leadership of the party.
Several features of Muzaffar Ahmed's life attracted everyone's attention. His deep devotion to working class internationalism, firm conviction in democracy, and tremendous enthusiasm for equal rights of women combined to make him a great revolutionary.
Ahmed had clear concepts about party organisation, mass movements, election struggles etc. He meticulously followed the methods of election campaigns and provided active leadership in every election from 1937 to 1971. He was an advocate of working class internationalism. He was proud of the liberation movement of Bangladesh.
Ahmed believed that freedom of press and speech is essential for expansion of mind and that the exchange of ideas is essential to encourage thought. He used to protect and nurture press, paper and bookshops with loving care. The National Book Agency and Ganashakti Press are his contributions. His articles on many different subjects are to be found scattered in many journals and magazines. His writings on peasant problems, his Communist Party of India: Years of Formation 1921-1933 and his Myself and the Communist Party of India throw light on contemporary politics.
Comrade Muzaffar Ahmed passed away on 18 December 1973 at the age of 84. Out of the 60 years of his political life, he had spent 52 years as a whole-time worker of the party. [Ranjit Roy]