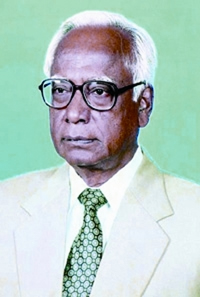 Ahmed, Iajuddin (1931-2012) President of Bangladesh. Born at village Nayagaon in Munshiganj on 1 February 1931, Iajuddin Ahmed passed matriculation from Munshiganj High School in 1948 and ISc in 1950 from Haraganga College, Munshiganj. He passed BSc in 1952 from the University of Dhaka and in 1954 passed MSc in Soil Science from the same university. Then he left for higher studies in the USA and did MS in 1958 and PhD in 1962, both from Wisconsin University. Upon his return home, Iajuddin Ahmed joined as an Assistant Professor in the Department of Soil Science, University of Dhaka in 1963.
Professor Ahmed served as the chairman of the Department of Soil Science, University of Dhaka (1968-1969; 1976-1979), Provost of Salimullah Muslim Hall (1975-1983), Dean of the Faculty of Biological Sciences from 1989 to 1991, Chairman of the Public Service Commission (1991-1993), Chairman of University Grants Commission (1995-1999), and Vice Chancellor, State University of Bangladesh (2002). Professor Ahmed also worked as visiting professor in Cornell University (USA) in 1984 and the German Technical University and Gottingens University of Germany in 1984.
Iajuddin Ahmed has authored 125 research articles. Major areas of his research were the effects of salinity on paddy plants of coastal areas and storage of plant food below the ground for their supply to plants according to needs. His invention of a new method of underground plant food storage drew attention of scholars at home and abroad. He received the Ibrahim Memorial Medal in 1987 and Atish Dipankar Medal in 1990. In recognition of his contribution to the development of education, Iajuddin Ahmed was awarded the Ekushey Padak in 1995.
In 1991, Iajuddin Ahmed served as an Advisor in the interim government and was in charge of the ministries of food and cultural affairs. Elected on 5 September 2002 unopposed, Professor Iajuddin Ahmed took oath as the President of Bangladesh on 6 September 2002.
In the backdrop of political impasse centring on the choice of a Chief Adviser for the caretaker government, Ahmed took over the responsibility of Chief Adviser on 29 October 2006. But he had to resign from the post on 11 January 2007 and to declare a State of Emergency in the country following a political stalemate on the question of parliamentary election. Iajuddin Ahmed left office on 11 February 2009 after the assumption of power by the Awami League-led grand alliance government.'
Iajuddin Ahmed died on 10 december 2012 while under medical treatment in the Bamrungrad Hospital in Bangkok. [Helal Uddin Ahmed]